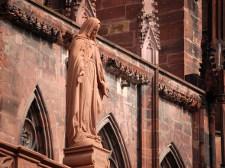 (Read the series so far.)
Among Roman Catholics, Vatican II, and thus the Catechism of the Catholic Church (CCC), is interpreted across a spectrum from essential rejection to continuity with the past to rupture.
Essential rejection is the position of extremely traditional Catholics who remain in communion with the Pope but who continue to give or take the Mass in the wafer alone and who gravitate toward the Latin Mass. Their interpretation of CCC has the greatest continuity with pre-Vatican II statements and tends to minimize the discontinuity.
Continuity with the past is the mainstream interpretation of serious Catholics. "Serious" does not include politicos who claim Augustine supported abortion or who have purchased multiple annulments. Pope Benedict XVI, now emeritus, appears to me to be a very conservative proponent of the continuity view, and he is the mind behind the current universal Catechism. This view is represented by Catholic voices like the magazine First Things.
3596 reads