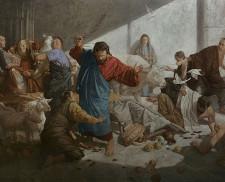 Spring cleaning finds its origins in the Jewish community, preparing ones home for Passover by removing even infinitesimal dust that might contain leaven. During the Passover season nearly 2,000 years ago, Jesus decided to clean house, too. The house was his Father's house, the Temple.
This event is known as the "Second Cleansing of the Temple," and we are looking at the account of it recorded in Mark 11:15-19. The first cleansing occurred three years earlier and recorded in John 3:13-22.
Yeshua didn't clean with detergent, kitchen cleanser, or disinfectant. This was to be a different kind of cleaning, an attempted spiritual cleansing from the grunges of corruption and snobbery.
2451 reads