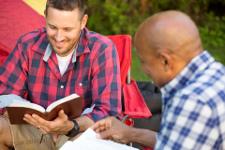 By Jordan Standridge. Reposted from The Cripplegate.
As time passes, I become more and more convinced that faith comes from hearing and hearing from the Word of God.
No amount of evidence can convince someone about the truth of the Gospel. It is the Word of God, itself, that has the power to save and transform souls.
Because of this conviction, I love walking through Scripture with people whenever they permit me the time. And there are three passages in particular that I am usually drawn to, depending on the type of questions I receive throughout the conversation. So, here are my top three passages to study with unbelievers.
Matthew 5:21-30, 48
This one is especially helpful for people who don't think their sin is that bad. This is a go-to passage for several reasons. It comes from the Savior's mouth, Himself. It is designed to show much how deep man's depravity truly is. And it ultimately places God as the standard that we should reach to, and, by doing so, shatters false religion in pieces.
1458 reads