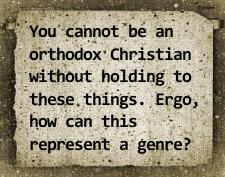 Read the series.
Some Major Characteristics of Apocalyptic (with Responses)
Take up any book on the subject and you will be told that the many features of apocalyptic literature can scarcely if ever be found in one single work. Indeed, a piece of apocalyptic can be absent many of the list of characteristics. Still, it is worth trying to get at the criteria. Brent Sandy has provided a list of eleven characteristics (twelve if one includes pseudonymity) of the genre:1 I have added some comments to temper them a bit.
"jaw-dropping scenes of animals, rivers, mountains and stars that jump off the page with movielike special effects (Dan. 8:2-14; Zech. 6:1-7)"
A star went before the magi to guide them; it was actual not apocalyptical. While some of the animals, say in Daniel 7, are imaginary, this is not necessarily the case with the visions in Zechariah or Ezekiel. If the prophets could see real spiritual beings (cherubim, seraphim, women with stork's wings, etc), then apocalyptic is more a category of experience (which includes seeing the supernatural) than has hitherto been admitted.
"natural catastrophes producing cosmic chaos throughout the universe, ushering in the dreadful day of judgment (Is. 24:18-20; Ezek. 38:19-22)"
These passages describe an epic earthquake; nothing in these passages is figurative.
718 reads