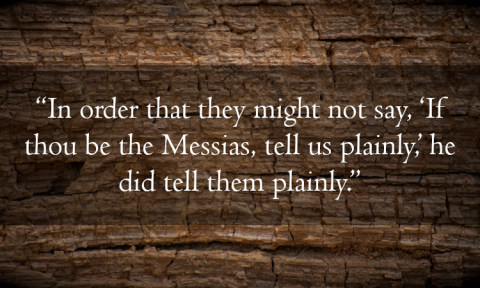 A Sermon (No. 405) Delivered on Sunday Morning, August the 18th, 1861 by the Rev. C. H. Spurgeon, at the Metropolitan Tabernacle, Newington.
Tell ye the daughter of Sion, Behold, thy King cometh unto thee, meek, and sitting upon an ass, and a colt the foal of an ass. (Matthew 21:5)
We have read the chapter from which our text is taken; let me now rehearse the incident in your hearing. There was an expectation upon the popular mind of the Jewish people, that Messiah was about to come. They expected him to be a temporal prince, one who would make war upon the Romans and restore to the Jews their lost nationality. There were many who, though they did not believe in Christ with a spiritual faith, nevertheless hoped that perhaps he might be to them a great temporal deliverer, and we read that on one or two occasions they would have taken him and made him a king, but that he hid himself.
There was an anxious desire that somebody or other should lift the standard of rebellion and lead the people against their oppressors. Seeing the mighty things which Christ did, the wish was father to the thought, and they imagined that He might probably restore to Israel the kingdom and set them free. The Saviour at length saw that it was coming to a crisis. For him it must either be death for having disappointed popular expectation, or else he must yield to the wishes of the people, and be made a king.
3009 reads