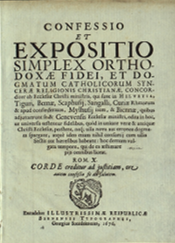 On "Theology Thursday," we feature short excerpts on various areas of systematic theology, from a wide variety of colorful (and drab) characters and institutions. Some are orthodox, but decidedly outside the Baptist orbit. Others are completely heretical. Regardless of heresy or orthodoxy, we hope these short readings are a stimulus for personal reflection, a challenge to theological complacency, and an impetus for apologetic zeal "to encourage you to contend earnestly for the faith that was once for all entrusted to the saints," (Jude 3).
From the Second Helvetic Confession …
The Will of God is Explained for Us in the Law of God
We teach that the will of God is explained for us in the law of God, what he wills or does not will us to do, what is good and just, or what is evil and unjust. Therefore, we confess that the law is good and holy.
The Law of Nature
And this law was at one time written in the hearts of men by the finger of God (Rom. 2:15), and is called the law of nature (the law of Moses is in two Tables), and at another it was inscribed by his finger on the two Tables of Moses, and eloquently expounded in the books of Moses (Ex. 20:1 ff.; Deut. 5:6 ff.). For the sake of clarity we distinguish the moral law which is contained in the Decalogue or two Tables and expounded in the books of Moses, the ceremonial law which determines the ceremonies and worship of God, and the judicial law which is concerned with political and domestic matters.
5900 reads