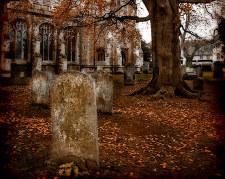 Using the death illustration (see Part 1), Paul taught that we can choose to allow God to transform our allegiance to following our desires and let Him work in us to engage a new life. Here, we'll take apart what Paul wrote, because it has some "religious" terms that can lead us in the wrong way if we don't carefully understand them.
First, Paul made clear in verse two that sin's hold on us is changed because we have died as believers.
I feel alive, how about you? Who has died? Clearly what he said was that our surrender to Jesus Christ was like a "death" to self-direction, or at least that is what it was supposed to be. Let me illustrate: If I were to join military service this week, I would cease my ability to serve this congregation. I would cease making most all decisions in my life, and my days and nights would be surrendered to the military authorities to whom I gave charge of my life. I wouldn't decide when I woke up in the morning, nor when I went to bed. My clothing, hairstyle and daily schedule would be entirely surrendered to their charge. I would eat what they told me to eat, when they told me to eat it. I would, in effect, "die" to self-choices. Paul made it clear that my commitment to Jesus was intended to be very much like that.
1586 reads