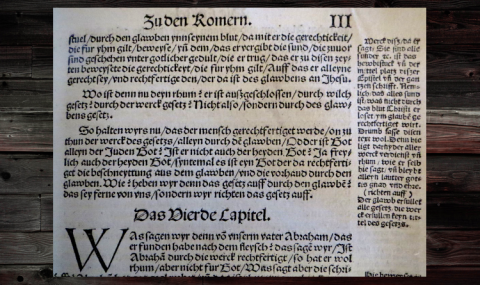 As we continue to follow the events of the Reformation, 500 years later, we would be remiss if we failed to recall that half of a millennium has now passed since the dawn of the modern era of Bible translation. It began officially this month in 1522 with the release of the September Testament—the New Testament translated by Dr. Martin Luther into a language that he helped to form in Germany.
A placard at the Lutherhaus in Eisenach, Germany, captures the spirit of this endeavor: "Luther wanted the Bible to be understood. Everyone was supposed to be able to read God's word on their own."1
The publication launched on Sept. 21, 1522,2 allowing Luther almost seven months to settle back into his responsibilities as pastor and professor in Wittenberg, following his return from exile in the Wartburg Castle. I described the background, process and impact of this translation work in the castle in previous articles.3 However, I feel compelled to observe the anniversary of its publication, especially as we approach another Reformation Day, and our hearts are drawn once again to the significance of Sola Scriptura.
In the outside world, Luther's life hung in the balance. But hidden safely within his mighty fortress high above Eisenach, he undertook a task so enormous that the results continue to reverberate down to our time.
965 reads