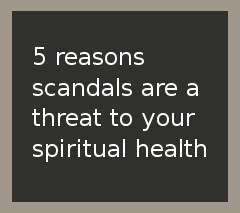 Everybody loves a scandal, it seems—evangelicals and fundamentalists included. When news of some alleged or actual misdeed hits the Web, traffic soars and discussions heat up. Emotions (or affections, for purists) run the gamut from shock and disappointment, to outrage, to barely-disguised glee.
What just about nobody seems to feel is what's needed most: caution—no, outright fear.
Christians should regard scandal as a kind of femme fatale, as dangerous as it is attractive. (Proverbs 7 comes to mind.) We ought to approach every scandal suspiciously, expecting that some kind of trap is hidden there waiting to ensnare us. We should be all the more alert when the scandal seems to call for an obvious response. That's the seduction at work. The eyes are batting and the perfume is wafting. Probably wisest to walk (or maybe run) away.
Watching for missteps
By "scandal" I mean a report of about someone misstepping. Though the English "scandal" doesn't precisely match the biblical Greek terms σκάνδαλον (skandalon, e.g., Matt. 13:41) and σκανδαλίζω (skandalizo, e.g., 1 Cor. 8:13), it shares with them the idea that some misstep has occurred or may have occurred.
In August two scandals—by this definition—gained much attention here at SharperIron (as well as elsewhere). One concerned sexual immorality on the part of a Baptist leader who was much admired by one segment of Baptist fundamentalism and about equally despised by another segment (along with many who are neither Baptist nor fundamentalist).
3175 reads