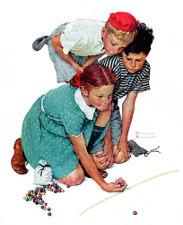 Chalk it up to the latent truancy that exists in parent and child alike, but I've been less than motivated these last few weeks. From the middle of May onward, I found myself slogging through the final projects, class picnics, and end-of-school year programs. I bought the ice cream, clapped for the perfect attendance awards, and sniffled through fifth-grade graduation. When the last bell rang, my kids weren't the only ones ready to be done.
No more lunches to pack…
No more homework to muddle through…
No more waking up in the middle of the night to remember what I forgot…
At least for the next 104 days or so.
I grew up in a teacher's home; in fact, it was a two-teacher home. Both my mother and father spent their days schooling future generations in the finer points of history and science. For our family, life existed in discreet increments of 9 weeks that gradually worked their way toward the ultimate goal of summer vacation. Dad often had to take odd jobs during his months off to make ends meet, but occasionally, every so often, there was a glorious summer when we had enough. He could stay with us, tend his garden, putter in his orchard, and simply enjoy working at home.
3042 reads