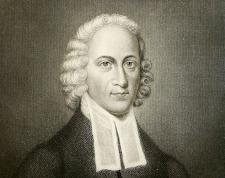 In the mid-1700s Jonathan Edwards was serving as the pastor of a thriving church in Northampton, Massachusetts. He had been a faithful and hardworking pastor for 22 years. Though his gifts were clearly more academic than pastoral, he loved his flock, served them, prayed for them, and preached some of the most influential sermons in history from their pulpit.
Edwards has been credited by historians as having a leading role in starting the Great Awakening in which 10s of 1,000s became genuinely and noticeably converted. His famous sermon Sinners in the Hands of an Angry God was the spark that ignited the movement. And yet he remained the faithful pastor of a relatively small congregation… until 1749, when something made him leave his flock after 22 years.
What happened? Simple: they fired him.
Edwards wanted to insist that communion could only be taken by people who had evidence that they were, in fact, Christians but this was against the church's tradition of allowing anyone, no matter how blatantly unrepentant they were, to partake in the sacrament of the Lord's Supper.
Edwards was dismissed but then agreed to continue on as their pastor until they found a replacement, which took a year.
Can you imagine the hurt and betrayal he must have felt? Most of us would have spiraled into depression, cynicism, or bitterness. But Edwards remained cheerful, content, serene through the whole ordeal. How did Edwards survive the humiliating, unfair, and devastating dismissal?
His happiness was out of the reach of his enemies.
1422 reads