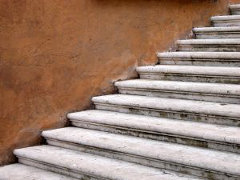 Read the series so far.
In the first part of this series I referenced some things to which I should now like to return. Even before getting into what is meant when the two words "progressive revelation" are brought together, I said that we needed to settle on what revelation is. At bottom revelation is communication from God to man. The next question up is, how accessible a communication is it? Is it both constant and consistent? That is to say, does the revelation crop up repeatedly, and/or unequivocally? Does it have a character which is traceable backwards and forwards?
What did you expect?
I gave the examples of the Trinity and the Messianic prophecies to do with the first coming. I illustrated it by imagining tracking leopard tracks in the snow. One would expect the tracks to lead to a leopard. In the same way, a reliable progressive communication about a subject through time would produce an expectation based on the data contained in the words being revealed (unless the words were incompetent or deliberately misleading), just as one would not expect leopard tracks to lead to a bear, one would not expect OT predictions of Christ to be fulfilled in someone born in Jerusalem, from the tribe of Asher, begotten through an earthly father. Why? Because the those things were not part of what was communicated! And any "transformation" in the subject's identity along the line of progression would manifestly terminate that progression!
1039 reads