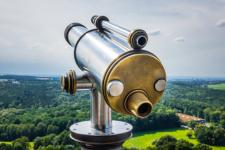 Reposted from The Cripplegate.
One of my favorite Christian stories is Pilgrim's Progress. First published in 1678, the full title of John Bunyan's classic is The Pilgrim's Progress from This World to That Which Is to Come.
The well-known allegory follows a man, who comes to be called Christian, as he flees from the City of Destruction and enters through the narrow gate, finding eternal life at the cross, and feeling the heavy burden of his sin fall off and roll away.
As he journeys along the King's Highway toward the Celestial City, he encounters many dangers and temptations along the way—from Vanity Fair to Doubting Castle until he finally crosses the River of Death and reaches his destination.
One of my favorite scenes takes place when Christian and his traveling companion, Hopeful, make there way to the Delectable (Delightful) Mountains. There they meet a group of shepherds who seek to encourage them as they continue on their journey.
These shepherds take Christian and Hopeful to what Bunyan describes as, "a high hill, called Clear."
There Christian and Hopeful are given what Bunyan describes as a "perspective glass" (what we might call a telescope), and as they look through the lens from the top of this mountain peak, they get a glimpse of the gates of the Celestial City in the distance.
1051 reads