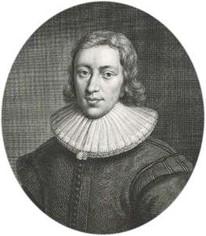 Because Good Friday is this week, it is fitting to publish John Milton's never-completed poem entitled The Passion (ca. 1620):1
Erewhile of music, and ethereal mirth, 
Wherewith the stage of Air and Earth did ring, 
And joyous news of heavenly Infant's birth, 
My muse with Angels did divide to sing; 
But headlong joy is ever on the wing, 
In wintry solstice like the shortened light 
Soon swallowed up in dark and long outliving night. 

For now to sorrow must I tune my song, 
And set my Harp to notes of saddest woe, 
Which on our dearest Lord did seize ere long, 
Dangers, and snares, and wrongs, and worse than so, 
Which he for us did freely undergo: 
Most perfect Hero, tried in heaviest plight 
Of labours huge and hard, too hard for human wight! 

He, sovran Priest, stooping his regal head, 
That dropt with odorous oil down his fair eyes, 
Poor fleshly Tabernacle enterèd, 
His starry front low-roofed beneath the skies: 
Oh, what a mask was there, what a disguise! 
Yet more: the stroke of death he must abide; 
Then lies him meekly down fast by his Brethren's side. 
1332 reads