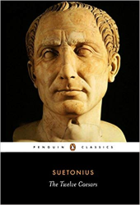 Many Christians have heard tell that the Emperor Nero was a very bad man. Well, curious Christians need look no further than the Roman writer Suetonius, whose work The Twelve Caesars (ca. 96 A.D.) includes an account of Neros' life. In this excerpt, we behold a taste of Neros' debauchery and madness.1
28. Besides the abuse of free-born lads, and the debauch of married women, he committed a rape upon Rubria, a Vestal Virgin. He was upon the point of marrying Acte, his freedwoman, having suborned some men of consular rank to swear that she was of royal descent.

He gelded the boy Sporus, and endeavoured to transform him into a woman. He even went so far as to marry him, with all the usual formalities of a marriage settlement, the rose-coloured nuptial veil, and a numerous company at the wedding. When the ceremony was over, he had him conducted like a bride to his own house, and treated him as his wife. It was jocularly observed by some person, "that it would have been well for mankind, had such a wife fallen to the lot of his father Domitius."

This Sporus he carried about with him in a litter round the solemn assemblies and fairs of Greece, and afterwards at Rome through the Sigillaria, dressed in the rich attire of an empress; kissing him from time to time as they rode together.
3855 reads