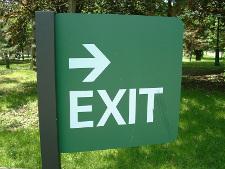 Reposted from The Cripplegate.
In my fifteen years as a pastor, I've seen my fair share of people who have left the church. Some have left the churches where I've been on staff for other churches—the sort of greener pasture mentality, you could say—and others have left the church all together. Its that second category that fascinates me the most.
Why would someone leave the church? I've kept a little journal over the years, and when I've followed up with someone who has left the church for no church (as opposed to simply transferring their membership somewhere else), I've jotted down why. This exercise has served as one-part prayer journal, one-part sociological survey.
Recently I read through those names. Looking back on it, five main reasons stand out why people leave the church for no church:
1. Internet/multi-site/midweek/home group
I've known quite a few people whose initial stop after leaving church has been some sort of "almost church." What I mean by that is a group that is like a church, without actually being a church. Think anything from a home-group study to a midweek "young adults" group to an internet church.
I say this is their "initial" stop because they generally don't last long there. Either the group folds, the young adults grow up, or the patient develops an immunity to the internet church virus. These aren't long-term alternatives to church, but I've known a few people who have tried.
1507 reads