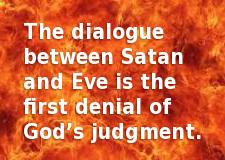 Satan's encounter with Eve in the Garden is fascinating and very important for us to understand. His temptation of Eve, recorded in Genesis 3, represents several firsts:
It is the first instance of an epistemological alternative to God's design. Satan offers to Eve a different way to have God-like knowledge. Satan argues that God is actually deceiving Eve into ignorance by keeping her from the tree of the knowledge of good and evil. Satan's plan was both clear and appealing: Be like God by the assertion of your own will, and be free from God's restrictive design. Declare your independence from God by doing it your own way—the result will be the same.
Satan's temptation of Eve is also the first instance of a hermeneutic alternative to God's design. Satan's temptation of Eve was the first recorded instance of a non-literal interpretation of God's word. Satan asks Eve, "Has God said … ?" and then proceeds to distort what God had actually said (3:1). In contrast, Genesis 1-12 represents roughly 2,500 years of history, and during that time, of the roughly 31 references to God speaking, this is the only instance (besides Eve's fumbling in response to Satan's challenge) in which God's word isn't taken at face value.
1289 reads