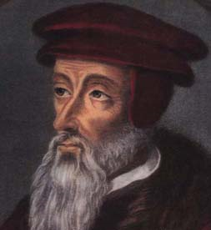 John Calvin, in his Institutes of the Christian Religion, famously set out what he saw as the three uses of the law. By the term "law," Calvin explains, "[b]y the Law, I understand not only the Ten Commandments, which contain a complete rule of life, but the whole system of religion delivered by the hand of Moses."1 Here, in this excerpt,2 Calvin explains the first of these:
The First Use of the Law

That the whole matter may be made clearer, let us take a succinct view of the office and use of the Moral Law. Now, this office and use seems to me to consist of three parts. First, by exhibiting the righteousness of God,—in other words, the righteousness which alone is acceptable to God,—it admonishes every one of his own unrighteousness, certiorates, convicts, and finally condemns him. This is necessary, in order that man, who is blind and intoxicated with self-love, may be brought at once to know and to confess his weakness and impurity.

For until his vanity is made perfectly manifest, he is puffed up with infatuated confidence in his own powers, and never can be brought to feel their feebleness so long as he measures them by a standard of his own choice. So soon, however, as he begins to compare them with the requirements of the Law, he has something to tame his presumption. How high soever his opinion of his own powers may be, he immediately feels that they pant under the heavy load, then totter and stumble, and finally fall and give way.
958 reads