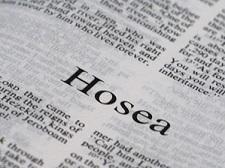 Read Part 1.
The Book of Hosea continues to pour out its condemnations of the malpractices of Israel (in particular the northern tribes spoken to "synecdocheally" under the heading of the largest tribe, Ephraim), but at the end of chapter 5 there is a passage which expresses another truth that will seemingly run in tandem with God's wooing of Israel as described in chapter 2:14f.
I will return again to My place till they acknowledge their offense.
Then they will seek My face; in their affliction they will earnestly seek Me. (Hosea 5:15)
The scene is of God retiring from the scene until such a time as His people acknowledge the fact that they have continually sinned against Him. The theme is found earlier in Deuteronomy 30:1-6 where the prediction of worshipful obedience transcends any state of affairs known after that time.
2415 reads