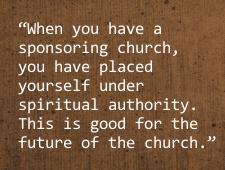 Read Part 1.
Steps to Starting a Home Church
First, don't start a home church, yet. Rather, start a home Bible study. Meet together on a regular basis for the simple (yet transforming) study of the Word. Don't take an offering. Don't elect any leadership. Don't set a budget. Just meet and study God's Word. If you want to get fancy, serve cake.
If this home Bible study begins to have some cohesion, it may be time to transform the Bible study into a church. But a church needs to be under some kind of spiritual authority, preferably of another church. Is there a church somewhere, anywhere, that holds the same doctrine as your group? Would this church become the sponsoring church for your new group? Don't look for a church that will take you as a satellite (leave that business to NASA), but look for a church that will take you as a sponsor to provide spiritual and practical guidance. That sponsor church should be committed to your future independence and should desire that independence as soon as possible.
6437 reads