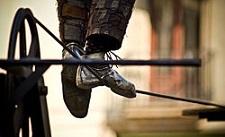 From Voice, Mar/Apr 2014. Used by permission.
Recently I read an article which began with these words:
Some time ago a man said to me, "I drink beer in the pub in my spare time. Some guys I know go out chasing women. So what's the difference? Your hobby is Christianity." To think that a man could look at me and say that Christianity was just a pleasant spare time occupation like collecting stamps or yachting. Is that my definition of Christianity? Do I put it second, or do I put it first?
This quotation points out the fact that if our faith does not change our lives, even the world questions the genuineness of our profession.
7928 reads