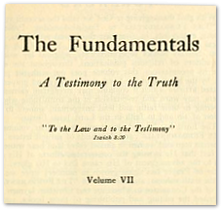 CHAPTER VII - THREE PECULIARITIES OF THE PENTATEUCH WHICH ARE INCOMPATIBLE WITH THE GRAF-WELLHAUSEN THEORIES OF ITS COMPOSITION
BY ANDREW CRAIG ROBINSON, M. A., BALLINEEN, COUNTY CORK, IRELAND, AUTHOR OF "WHAT ABOUT THE OLD TESTAMENT?"
There are—amongst others—three very remarkable peculiarities in the Pentateuch which seem to be incompatible with modern theories of its composition, and to call for some explanation from the critics.
The first of these peculiarities is:
THE ABSENCE OF THE NAME "JERUSALEM" FROM THE PENTATEUCH
The first occurrence of the name "Jerusalem" in the Bible is in the Book of Joshua (10:1): "Now it came to pass when Adonizedek, King of Jerusalem", etc. In the Pentateuch the city is only once named (Gen. 14) and then it is called "Salem"—an abbreviation of its cuneiform name "Uru-salem". Now on the traditional view of the Pentateuch the absence of the name Jerusalem presents no difficulty; the fact that Bethel, Hebron, and other shrines are named, whilst Jerusalem is not, would merely mean that at these other shrines the patriarchs had built their altars, whilst at Jerusalem they had not.
7941 reads