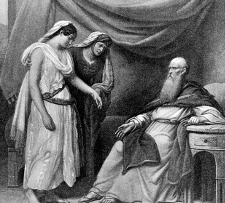 (Read the series.)
Ever hear one of these guys on the radio (usually on ESPN Saturday mornings) giving you the betting lines on games and "guaranteeing" that his picks will make you money? I am not suggesting that anyone should gamble money on football games. But I want to point out the terminology.
It seems like everything today is a guarantee. "I guarantee it" is one of the most overused slogans in our country (I guarantee it!). But the question I always want to ask is, "What if you're wrong?" Because they are—lots of times. Do they lose their job? Do they get a pay cut? Nope, they just start taping next week's "guaranteed, locked-in, easy money" choices and the cycle starts all over again.
But God isn't like that. We saw in Genesis 15 that Yahweh makes promises and He guarantees them with His very life (try that, prognosticators!). The only area of doubt when God makes a promise lies on our end—the end that is fallen, sinful, and prone to wander into bad thinking about just about everything.
1642 reads