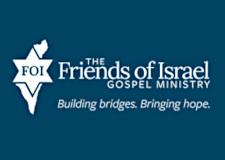 I was appointed by the board of The Friends of Israel Gospel Ministry at its November 2018 meeting to be a church ministries representative working in the upper Midwest. That was the result of one short trip to New Jersey. But it was also the conclusion of a very long journey.
My history with The Friends of Israel goes back a long way. In one sense, it began when my grandfather was among the earliest readers of Israel My Glory magazine. Then it dates back to the mid-1980s, when I first saw that publication in a magazine rack in church, and wondered what the title meant.
I could trace it back to college and then seminary, when I began reading textbooks by the late Dr. Renald Showers and became a great fan of his teaching. I was thrilled to hear him as the guest speaker for a Bible conference in our seminary in 1996. The week was memorable for being so cold that school was cancelled the day after the conference ended—an extremely rare occurrence! But even more memorable for me was the opportunity to meet Dr. Showers in person.
Our journey toward The Friends of Israel goes back to 1998, when I read a book by Bruce Scott, and invited him to come for a special Sunday at the church I pastored in Iowa.
1199 reads