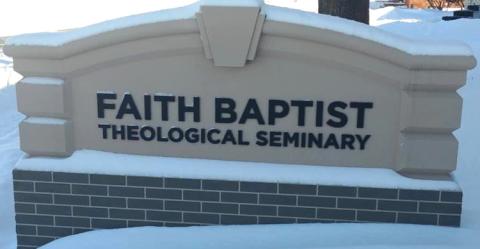 "You could go to seminary!"
I will never forget those words from my wife Lynnette—and she won't either.
They were uttered as we were eating lunch one day in the spring of 1994, watching The Coral Ridge Hour from Dr. D. James Kennedy and Coral Ridge Ministries. The segment at the end of that particular episode highlighted the new Knox Theological Seminary, which Dr. Kennedy had begun and was promoting to his national television audience.
I was ending the second year of my first pastorate, in a small church in a small town in northwest Illinois, and had completed two graduate classes during that school year.
Lynnette's words shocked me—and, I think, her as well. They also changed our lives forever.
At that moment, I knew I wanted to, and needed to, go to seminary, and began to look at the possibilities. These were the days before the Internet—the "information superhighway" which, we were told, would change our lives, as well. We did not even own a computer. Nor did we have the money or means to take cross-country trips to visit the schools of our dreams.
However, I did know that I did not want to move to a big city. I also knew that I did not want to simply follow my college classmates and friends to the same seminaries they were attending. I was willing to break new ground—and I wanted at least a slightly different perspective than I had received in college.  
8882 reads