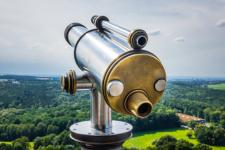 Reposted from The Cripplegate.
"If you read history you will find that the Christians who did most for the present world were just those who thought most of the next… . It is since Christians have largely ceased to think of the other world that they have become so ineffective in this." (C. S. Lewis, Mere Christianity [New York: Harper Collins, 2001], 134.)
"Eschatology" is the study of last things, or end times. For many, that term sounds like little more than an academic label, fit only for theology textbooks and doctrinal debates.
But whether we use the term "eschatology" or not, the study of the future is of vital imporance for believers. Biblical eschatology is far more than an academic topic to be debated. In His Word, God has revealed truth about the end of the age, and that truth is intended to do more than merely generate colorful charts or provide fodder for bestselling novels.
Why has God revealed so much about the future to His people?
At least three answers to that question might be considered, demonstrating that the future is meant to edify and encourage believers in the present. Our understanding of future events ought to impact our present reality in substantive ways.
1077 reads