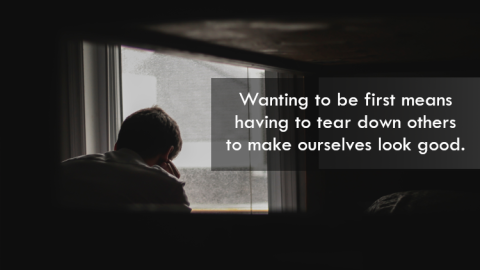 Read Part 1.
5. Those with the DNA of Diotrephes are a divisive presence in the Body of Christ.
Since Diotrephes always had to be first, the interest of unity in Christ took a back seat to his desire for preeminence. Mark it down, when our agenda usurps the greater good of the Body of Christ, we inevitably end up causing great harm to the unity of God's people.
Wanting to be first means having to tear down others to make ourselves look good. That could possibly mean making others look less intelligent than us. Thinking others aren't as gifted as us. Belittling the input of others because in our hearts, we think we have the situation figured out better than they do.
Consider for a moment how much having to be first gets in the way of God-mandated unity within the local church. Take your time and ponder the truth of the following verses and how much God prioritizes the pursuit of unity:
For as in one body we have many members, and the members do not all have the same function, so we, though many, are one body in Christ, and individually members one of another. (Rom. 12:4–5)

So then let us pursue what makes for peace and for mutual upbuilding." (Rom. 14:19)

May the God of endurance and encouragement grant you to live in such harmony with one another, in accord with Christ Jesus, that together you may with one voice glorify the God and Father of our Lord Jesus Christ." (Rom. 15:5–6)
1920 reads