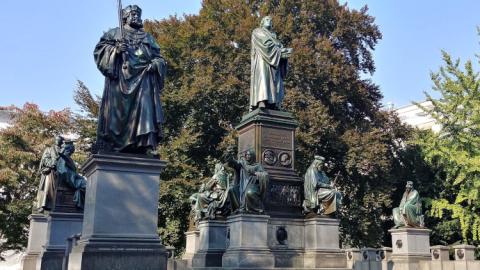 Read Part 1.
One of the most fascinating sights that we saw on our 500th-anniversary Reformation tour was the Luther Monument—sometimes called the Reformation Monument—which is located across the street from the park where Dr. Martin Luther's famous stand before the Diet of Worms is memorialized.
In fact, this set of bronze sculptures is described as "the world's largest monument to the Reformation."1 Here Luther still takes his stand, proudly holding his German Bible at the very center of the monument, enveloped in the words of his famous hymn, "A Mighty Fortress is Our God."2 He stands among his colleagues and others who paved the way for his work of Reformation. Looking at these figures, it is almost as if each one "being dead still speaks" (Heb. 11:4)3.
Beneath his feet—as his foundation, as it were—is this famous quote: "Hier stehe ich, ich kann nicht anders, Gott helfe mir: Amen!"
The drama that brought Luther to Worms on April 16, 1521, began officially on June 15 of the previous year, when Pope Leo X promulgated a papal bull against Luther that was titled Exsurge Domine, based on Ps. 74:22, in which he charged Luther with 41 false teachings.
1325 reads