Depression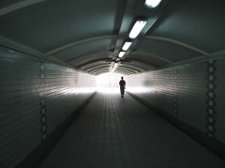 Read Part 1 and Part 2.
In The Great Divorce a repentant liberal tells a stuffy and impenitent bishop that if he will rethink his pretensions about religion, he will take him to meet "Eternal Fact, the Father of all other facts." The cleric disdainfully turns down the offer, preferring to remain under the delusion that "God" and "fact" do not dwell on the same plane of objectivity. It is a strange deception indeed which constructs a grand array of "facts" and suspends them over a bottomless chasm, but that is what sinners do with facts. They encounter them; they label and categorize them; but they attempt to ground them in the ether of a wholly impracticable worldview.
That is how I was before I met "Eternal Fact." My dealings with Truth were occasional and, from my point of view, impersonal. And it was this impersonal view of Truth which gnawed away at me; for impersonal conceptions of Truth eventually depersonalize everything—even the viewer. They may seem impressive to our eyes for a while, but just as an attempt at landscape painting may please us until we set it alongside a Constable or a Monet, so truth without "the Spirit of Truth" gradually begins to look like a paltry thing. Truth (capital "T"); the kind that "shall make you free" (Jn. 8:32), springs forth from the "I AM" (Jn. 8:58).
609 reads