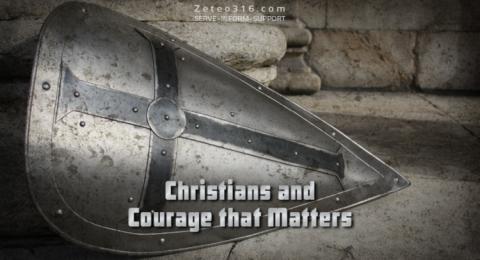 What is courage? According to the dictionaries courage, or bravery, is the ability to something which frightens one. It is the mental and moral willingness to act on one's beliefs despite danger, difficulty or disapproval.
It's important to note individuals who act bravely or exhibit courage aren't necessarily moral or virtuous. Definitions of morality and virtuousness are subjective and often fluid. These traits are subject to change by the "spirit of the age" and cultural-diversity trends.
A footballer lauded for courageous on-field exploits will lose honor if it emerges that he is a serial rapist. The 9/11 terrorists would have drawn on courage based upon their convictions to fly the planes into the Towers. They were lauded by their Islamic sympathizers. Likewise, western sympathizers often re-imagine terrorists as courageous freedom fighters. Others see them as murderers.
It might take courage for a pregnant girl to walk through a line of pro-life protestors to get to that clinic. But it also takes courage to bring the gospel to that hurting girl against the shouts of the pro-choice community. It takes courage to rob a bank.
So, we can see that courage can be misguided, depending upon our point of view. We all want to be considered courageous. It is a trait found in books and sons and which society admires. But as we've seen, it is also up for interpretation.
Is there some standard of courage which Christians should strive after?
621 reads