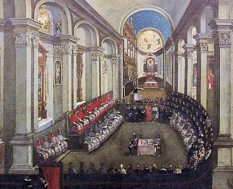 Following the deep division in the church which had resulted from the Protestant Reformation, there was a widespread desire, which grew stronger and was expressed in a variety of ways, for an ecumenical council. Its aim would be to reject errors against faith, add strength to the official teaching, restore the unity of the church, and reform the standards of the Roman curia and of church discipline.1
SIXTH SESSION, held January 13, 1547.
Decree on Justification2
CANON 18. If any one saith, that the commandments of God are, even for one that is justified and constituted in grace, impossible to keep: let him be anathema.
CANON 19. If any one saith, that nothing besides faith is commanded in the Gospel; that other things are indifferent, neither commanded nor prohibited, but free; or, that the ten commandments nowise appertain to Christians: let him be anathema.
940 reads