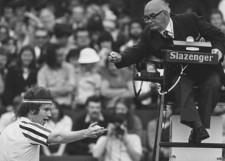 From The Cripplegate, with permission.
Some believe he was the greatest tennis player of all time. He finished as the world's top-seeded player four years in a row and spent a total of 170 weeks in that top spot. He won Wimbledon three times and the US Open four times, and finished his career with 77 singles titles and 78 doubles titles, which remains the highest men's combined total of the Open Era.
But most of us probably don't remember him for those stats.
We know him for his harsh words fired mercilessly at umpires in fits of outrage and unbridled temper tantrums. Who else could I be referring to other than John McEnroe?
1213 reads