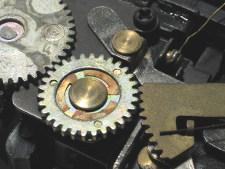 A few years back, in an editorial for the Kokomo Tribune, in a series about "social connectedness," I mentioned what I call the "anonymous lifestyle." Now I would like to use that concept as a jumping board for another issue: the "control obsession."
People often gravitate to an anonymous lifestyle, one in which they can melt into the crowd, one in which the worker bees work, the Queen sits on the eggs, and everything is regimented and orderly. Behind this quest for specialty, organization, and planning is the fear of revealing too much about our humanity, a discomfort with being an imperfect, sinful and sometimes incompetent human. Concealing ourselves means we focus only on our function.
Militaries have exploited this concept for decades. A soldier is no longer a human being from a family with ma and pa; he is a G.I., Government Issue, a son of the republic. Communism capitalized on this idea as well, even removing children from their homes at age 2 for training, returning them to parents for weekends only (as Cuba did during Castro's heyday). If we can become a cog in the machinery, a gear in the transmission, or a washer holding on a bolt, we somehow sense that humanity—ours included—is either under control or at least hidden from view. We feel secure.
But camouflaging ourselves in the crowd is only one of many "control" techniques.
1115 reads