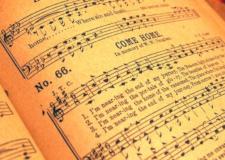 By Matthew Carpenter. Republished with permission from Baptist Bulletin © Regular Baptist Press. All rights reserved.
Every week in churches all across the world, people gather under the banner of Jesus and go through the motions of congregational worship. For some it's a blessing; for others it's a chance to critique. Some people disengage all together, and some people just disengage their brains and jack up their emotions.
What are we actually doing and why are we doing it? Is there a right way? Is there a better way?
Musical Roots
I grew up in a musical family, or perhaps a better way to say it, I was trapped in a musical Alcatraz with the cast of Hello, Dolly! My father loved music. He couldn't help it. I actually think that if you pricked him with a pin, he would bleed the score to either a Rodgers and Hammerstein musical or a John W. Peterson cantata.
On more occasions than I care to remember, my day would begin with my father bursting through my bedroom door singing and miming either "Oh, What a Beautiful Morning" or "Good Morning" from Singing in the Rain. Memories still flood my mind of spritely jazz hands, little kicks, a booming bass voice, and a huge smile.
My father also loved Jesus and the church so, naturally, the passions collided perfectly on Sundays when he would get up to lead the worship in the morning and evening service.
1539 reads