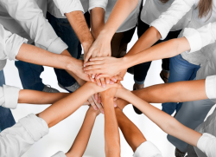 In my book, What's it Mean to be a Baptist?, I chat a bit about church covenants for members. They're important. They aren't commanded in the Scriptures, of course, but I believe they're a good tool to capture and convey the proper responsibilities members of a local church have towards each other.
Church members are in covenant with God because He's saved them and made them members of the New and better covenant through His eternal Son, Jesus Christ. Being a Christian means a radical shift in priorities and self-identity. It means you want to live for the Lord, and not for yourself. The Apostle Peter has some good insight for us (1 Pet 4:1-3):1
So, because Christ suffered in the body, you also must arm yourselves [with] the same mindset, because the one who is suffering in the body is now through with sin, to no longer live the rest of his life according to men's lusts, but instead according to God's will. Because enough time has now passed [for you] to have accomplished the desire of unbelievers. You used to live a life of debauchery, wicked lusts, drunkenness, wild celebrations, drinking parties and disgusting idol worship.
2168 reads