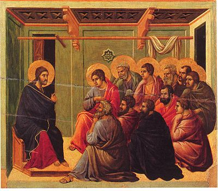 This article is adapted from a sermon I preached on 13 January 2019, entitled "Following the Leader." Video and audio may be found here.
Peter has just made an important confession; that Jesus was the Christ, the Messiah, the Anointed One (Mk 8:27-33). How do you sum up what this office means?1 It's common to see Christ as the prophet, priest and king. Millard Erickson shifts the emphasis from office to function, and presents Jesus as the revealer, ruler and reconciler.2
Because Jesus does these things; because He reveals God's message, will rule over all creation and reconciles any and everyone who comes to God through Him, how should you follow Jesus? That's what this passage (Mk 8:34 – 9:1) is all about.
Then, after Jesus summoned the crowd, along with His disciples, He said to them, (Mk 8:34).
Jesus' lessons on discipleship aren't just for "super Christians." Jesus invited apostles and the crowd to listen. If you're a Christian, this message is for you!
If someone wishes to be following me, he must deny himself, then pick up his cross, then keep on following me (Mk 8:34).
If you're a Christian, what does Jesus say a faithful life looks like? What do you have to do to be the kind of Christian Jesus can smile at?
Here it is:
1666 reads