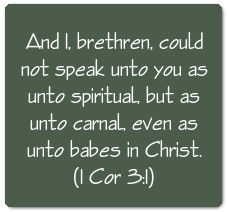 From In the Nick of Time, Central Baptist Theological Seminary. Read the series.
I have read with interest the recent exchange in this newsletter on the validity of two-category Christianity. Dr. Hauser argues that Paul's letter to the Corinthians supports the recognition of two different classes of Christians: the spiritual and the carnal. Dr. Pratt contends that Christians must bear fruit, and that while all Christians sin, there is no biblical reason to think that a Christian can exist in a perpetual state of carnality.
In this essay, I will use the term Keswick as shorthand for the two-category view of sanctification, and Reformed to refer to the position that all Christians are essentially of one type, despite differing in spiritual maturity. Each of these terms normally suggests further theological commitments, but these are not implied in my restricted usage here. And just to play with an open hand, my allegiance lies with the Reformed position.
What I want to consider here are the pastoral implications of this debate. Ideas have consequences, and theological ideas have particularly sharp pastoral consequences. While it is invalid to determine the truth of a theological claim based solely on its practical implications, I actually think there is some common ground in practice between the Reformed and Keswick positions that might help clarify where the debate between them really lies.
4702 reads