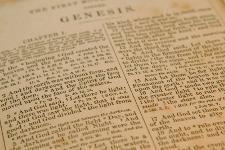 In order to arrive at a Scriptural approach for interpreting Scriptures, the interpretive method must be exegetically derived from within the Scriptural text. Otherwise, there can be no claim to hermeneutical certainty, because any externally derived interpretive method can be preferred and applied simply by exerting presuppositions upon the text. In the case of an externally derived hermeneutic, presuppositions leading to that hermeneutical conclusion create a pre-understanding that predetermines meaning independent of the author's intentions. The outcome, in such a case, can be wildly different than what the author had in mind.
If the Bible is merely a collection of ancient stories, legends, and myth, interspersed with mildly historical accounts, then the stakes are not particularly high. The greatest damage we can inflict by a faulty hermeneutical method is of the same weight as misunderstanding the motivations and activities of Mark Twain's adventurous character, Tom Sawyer, for example. In such an instance we would simply fail to recognize the aesthetic virtues of a creative work.
However, if the Bible constitutes an actual revelation from God, then it bears the very authority of the Author, Himself – an authority that extends to every aspect of life and conduct. These are high stakes, indeed. If we fail to engage the text with the interpretive approach intended by its Author, then we fail not just to appreciate aesthetic qualities, but we fail to grasp who God is, and what He intends for us to do.
3170 reads