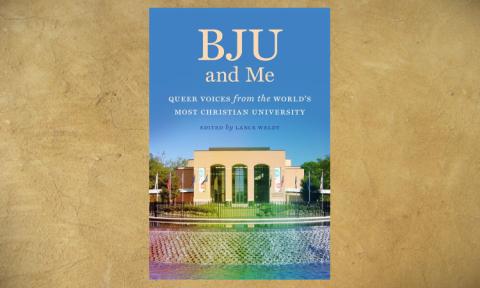 It is not often that Pride Month and Fundamentalism converge, but such was the case with the official June release of Lance Weldy's (1990s BJU) BJU and Me: Queer Voices from the World's Most Christian University, published by The University of Georgia Press.
I worked with Lance at the Mack Library at Bob Jones University. He was always a gay sort of fellow (in the traditional sense of the word), a hard worker, and extremely friendly — the quintessential nice guy. That's what makes him either an effective or dangerous (depending on your viewpoint) representative of the LGBT+ movement. In his book, he "showcases a queer community from an unexpected place – fundamentalist circles." (14)
One subject the editor and his contributors deal with is the "Clobber Passages" — six Bible passages "that have been traditionally used to prove that homosexuality is a sin." (9) They want us to believe that the Scriptures which condemn homosexuality are few and misinterpreted. Towards the end of the book, Lance offers a weak rebuttal of the Clobber Passages from "three queer BJU graduates." (313, 314)
The 19 testimonies in this book are well-written and easy-to-read. This review cannot possibly examine all of the details, so if you want to know "the rest of the story," you will have to read the book.
3322 reads