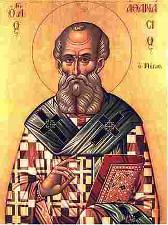 This is an excerpt from Athanasius' work, entitled On the Incarnation of the Word. Here he describes one of the reasons for the incarnation:1
§ 6. The human race then was wasting, God's image was being effaced, and His work ruined. Either, then, God must forego His spoken word by which man had incurred ruin; or that which had shared in the being of the Word must sink back again into destruction, in which case God's design would be defeated. What then? Was God's goodness to suffer this? But if so, why had man been made? It would have been weakness, not goodness on God's part.

For this cause, then, death having gained upon men, and corruption abiding upon them, the race of man was perishing; the rational man made in God's image was disappearing, and the handiwork of God was in process of dissolution.

For death, as I said above, gained from that time forth a legal hold over us, and it was impossible to evade the law, since it had been laid down by God because of the transgression, and the result was in truth at once monstrous and unseemly.

For it were monstrous, firstly, that God, having spoken, should prove false—that, when once He had ordained that man, if he transgressed the commandment, should die the death, after the transgression man should not die, but God's word should be broken. For God would not be true, if, when He had said we should die, man died not.
3760 reads