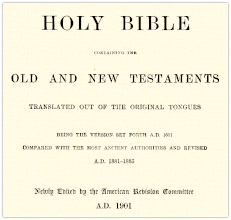 Posted with permission from As I See It, which is available free by writing to the editor at dkutilek@gmail.com.
The American Standard Version (ASV) of the Bible was published in 1901. It is occasionally referred to in writings of that era as the American Revised Version (ARV), or even, the American edition of the English Revised Version (ERV). This latter designation gives some indication of its pedigree. When the revision committee for the English Revised Version was organized in 1870 by the Church of England (the same religious body behind the King James Version), a sister advisory committee of Biblical scholars in America came into existence.
Unlike the King James Version committee, which was composed of only Anglican scholars, the Revised Version committees included scholars from other non-Catholic denominations, including several Baptists. Serving on the English committee were Baptist scholars Joseph Angus, Benjamin Davies and F. W. Gotch, while on the American committee were T. J. Conant, Horatio Hackett, Howard Osgood and A. C. Kendrick. The ERV Bible was published in 1885, while the ASV, delayed by contract with the English Revisers, was issued in 1901.
9682 reads