Before I get too far into this, I want to say that I'm not a pastor; I'm not a formal theology student; in fact all the formal training I had was four years of a Youth Ministries degree in undergrad. I'm writing this from the perspective of a blue-collar church member, a one-time "Young Fundamentalist" who doesn't really have a label anymore.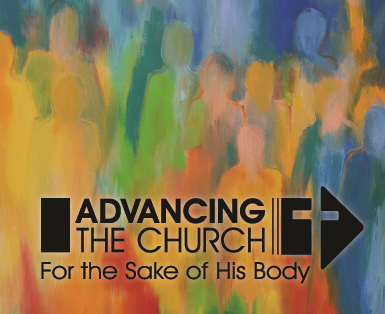 I don't really follow all the controversies in Fundamentalism these days. I know some of the key players but I really couldn't outline their beliefs and the stands they've taken. That means I knew the name "Mark Dever," and I was vaguely familiar with "9 Marks" (enough to know that the two were connected somehow) but beyond that I didn't have enough exposure to form an educated opinion. So when I heard that Dever would be just up the road from my office at the Advancing the Church conference, hosted by Calvary Baptist Seminary in Lansdale, PA, I jumped at the chance to hear him in person.
In his opening remarks, Pastor Tim Jordan, senior pastor at Calvary Baptist Church, noted that it would be a "profoundly deep spiritual loss" if we simply came to the services and listened, and avoided the opportunity to network. I haven't been out of school long but I ran into several classmates, both from college and high school, and spent quite a bit of time before and after the session catching up and swapping stories about how God was moving in our areas of ministries. I hadn't realized until now how good it feels to catch up with people I haven't seen in almost a decade and rejoice in the ministries they have.
As Pastor Jordan introduced Dever, he reviewed how he first came to hear about Dever's ministry at a recent Together for the Gospel conference. He did note that it was amazing how quickly news got out about his attendance there, citing "SharperIron or SharperTongue, whichever it is" as the reason word spread so fast. (It was, of course, tongue-in-cheek, but it still drew quite a few chuckles from the crowd.) Needless to say, I didn't flash my press credentials around him tonight. Jordan was careful to explain that while he and Dever might not necessarily share ministry fellowship in Calvary's "tiny pond," he felt that he and Dever were in complete agreement on the fundamentals of the faith and the Gospel, and therefore he felt it was acceptable to fellowship in the larger pond of the gospel.
Dever's message was aimed primarily at pastors but there was more than enough meat for the rest of us to chew on. This being the "Advancing the Church" conference, Dever asked two foundational questions: What is the church to be like? and, Why should the church be like that?
My note-taking skills are not the greatest—I don't usually take notes during messages—so I'll spare you the outline, but the biggest thing that jumped out at me was the emphasis on unity in the Church, and not just within the four walls of the sanctuary. He began by talking about individualism and how church has become "no more than the expression of the passing interests" of the individual church members. He gave a high-level overview of the book of 1 Corinthians, stressing that, since the church is a manifestation of God in the world, the church should be holy, united, and loving, just as Christ is. Despite the three-point outline, he spent most of his time on unity, warning against becoming "fans" of separation, as the Corinthians had (1 Cor. 1:10-17). He said the world expects separation: they expect racially segregated churches, or churches that are split along economic lines, musical preference, etc. But unity, he said, is provocative. When the world sees the unity we share in Christ, sees Jews and Gentiles fellowshipping (or, in more modern terms, sees congregations that blur the lines between ethnicities and social standings), that's unexpected and serves to glorify the One who has made us equal in Christ.
He closed with some admonitions to everyone in the room. He challenged us to reach out to the other Christians in our lives, regardless of denominational distinctives, and find ways to advance the gospel in our areas of influence. He warned us not to slander the work of our Savior in disparaging the work of other Christian churches. And he reminded us that, since we are all one body, how we treat others is how we treat Christ.
There were two other bloggers for SI in the audience; I'll leave the theological dissection to them. From my perspective, Dever's message confirmed what I've been learning for the last seven months about Christian unity—that it is entirely possible for people with specific theological differences to come together in spite of those differences and rejoice in how God is working and in how He chooses to accomplish that work…and maybe even do some gospel legwork together.
Unfortunately other obligations prevent me from catching any more of the conference. But if the "nuts and bolts" part of the conference during the day sessions are as refreshing as this evening session was, it would be well worth your effort to get the materials and recordings if and when they become available.
[node:bio/mounty body]
3009 reads