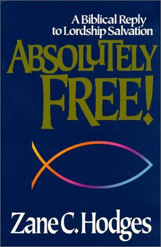 In 1988, John MacArthur released The Gospel According to Jesus and the phrase "lordship salvation" rocketed into popular evangelical vocabulary. Of course, the debate had been simmering long before MacArthur published his book, but he helped turn the simmer to a rolling boil. Charles Ryrie published So Great Salvation, in 1989. And, that same year, Zane Hodges finished Absolutely Free! MacArthur and Hodges represent the two opposite sides of the spectrum in this war of words and theologial systems.
Here, in this short excerpt from his book, Zane Hodges introduces the issue from his perspective:1
It would be difficult to imagine a conversation like this between a father and his son:

Son: "Dad, am I really your son, or am I only adopted?"

Father: "Well, young man, it depends on how you behave. If you really are my son, you will show this by doing the things I tell you to do. If you have my nature inside of you, you can't help but be obedient."

Son: "But what if I disobey you a lot, Dad?"

Father: "Then you have every reason to doubt that you are truly my son!"

What sort of father would talk to his son like that? Would he not rightly be accused of cruelty for dealing in this fashion with the anxieties of his child? At a monent like this, is not his child's most urgent need a sense of acceptance and parental love?

But to withhold this acceptance, in order to secure his boys obedience, is to traffic in rejection and fear. Yet, strangely enough, this is the kind of dialogue some Christian teachers apparently feel would be appropriate between God and man. According to them, if a person wonders whether he is a Christian or not, he ought to be told to look for evidence of this in his behavior. 

It is dangerous, these teachers assert, to offer someone the assurance that they are accepted with God apart from the issue of obedience. For them, there is no such thing as an unconditional love of God that is not, in some way, performance-related. 

This is the tragedy of the evangelical church today. To an alarming degree, it has lot touch with the unconditional love of God. To an amazing extent, it has become blind to the heart of  a loving Father who is waiting, like the father of the prodigal son, to embrace sinners with His total acceptance and with his lavish forgiveness. 

And even if the repenting sinner thinks he should pledge lifelong service to God whom he has offended, the Father will not allow such a pledge to be a part of His gracious acceptance of the offender! 

But many evangelicals today have forgotten this truth. Indeed, they even deny it. The most obvious result has been the spread of what is frequently called "lordship salvation." This is the view that a committment to obedience must be a true part of spiritual conversion. But beneath the surface lie all the hideous fruits of this disasterous way of thinking. 

Eternity alone will reveal how many thousands of people have been deprived of their assurance by this teaching and have been brought into the bondage of fear in their relationship to God. Instead of promoting holiness, the doctrine of lordship salvation destroys the very foundation on which true holiness must be built. By returning to the principles of the law, it has forfeited the spiritual power of grace. 

A Judgmental Spirit

As if the results already mentioned were not enough, lordship salvation also promotes a judgmental and pharisaical spirit within the church. How tempting it is to our sinful flesh to believe that we have a right to say to a failing professing believer, "You are really not good enough to be on your way to heaven!"

Of course, this point is rarely put in so stark a form. But no matter how carefully the matter is disguised in religious jargon, or obscured by sophisticated theology, the sad fact remains the same. Lordship teaching reserves to itself the right to strip professing Christians of their claims to faith and to consign such people to the ranks of the lost. 

To be sure, there is much reason to think that there are multitudes of people in churches today who have never really been saved. But this is due to their failure to understand the gospel offer, or to accept it. The fact that a person falls below the moral standards laid down in God's word is always tragic and deplorable. But it is not necessarily a proof that one is also unsaved. Is there any Christian who does not have areas of failure which he or she must seek God's grace to overcome?

But lordship thought is not satisfied to simply insist that some conversion experiences are not valid. Nearly everyone would agree to that. Instead, lordship doctrine even goes so far as to disallow an individual's claim to personal trust in Christ on the ground that their life is so unworthy that the claim could not be true. 

But the price paid for the privilege of making this kind of judgment is enormously high. The cost is nothing less than a radical rewriting of the gospel proclaimed by the Lord and by His apostles. And this leads to a complete reshaping of the concept of "saving faith." The result is that what passes for faith in lordhip thought is no longer recognizable as the biblical quality that goes by the same name. 

It may even be said that lordship salvation throws a veil of obscurity over the entire New Testament revelation. In the process, the marvelous truth of justification by faith, apart from works, recedes into shadows not unlike those which darkened the days before the Reformation. What replaces this doctrine is a kind of faith/works synthesis which differs only insignificantly from official Roman Catholic dogma. 
Notes
1 Zane Hodges, Absolutely Free! A Biblical Reply to Lordship Salvation (Grand Rapids, MI: Zondervan, 1989), 17-20.
9469 reads