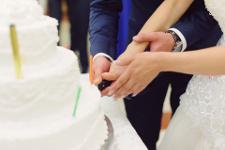 In any nation that aspires to be free, freedoms will clash, and there will be winners and losers. Speeding laws limit the freedom to drive fast in favor of the freedom to drive safely. Theft laws limit the freedom to take things we want in favor of the freedom to keep what's ours. In the retail setting, antidiscrimination laws limit the freedom to sell selectively in favor of the freedom to buy what we want without being turned away because the seller doesn't like "our kind of people."
Soon, the Supreme Court will rule in the case of Masterpiece Cakeshop, Ltd. v. Colorado Civil Rights Commission (if it hasn't already by the time this post appears). When it does, it's likely that one set of freedoms will be protected or expanded, and another set will be limited. Which freedoms should prevail?
Though I'm not a lawyer, several features of the case are clear to me, and they point toward the conclusion that the Court ought to rule in favor of Masterpiece Cakeshop.
1. The case is not about hating anybody; it's about loving something.
On the social left, it's now a given that conservative Christians are just using their religion as an excuse to hate gays. Many imply that opposing homosexual conduct, and upholding traditional marriage, are some kind of extremism, as though these haven't been part of the Christian faith – and all of Western civilization – for hundreds of years (reminds me of "I reject your reality and substitute my own!").
Yes, some who claim to be Christians do hate homosexuals. The faith itself, though, is distinct from the character of it's worst claimants. What makes our faith Christian is the Christ who became flesh for love of sinners, in order to forgive and transform them. Hate is inherently anti-Christian.
The Masterpiece case is actually about one believer's conviction that he must not dishonor the institution of marriage through his work.
2. The case is not about turning away customers; it's about turning away state compulsion.
Does Masterpiece's Jack Phillips want the freedom to turn away certain customers or does he want the freedom to reject a newly-invented social institution? His case claims it's the latter: the right to free speech. The facts of the case support that claim.
Conservative lawyer David French provides helpful perspective.
How does [NY Times contributor Jennifer Finney] distort the case? Let us count the ways. She begins of course by comparing Phillips to the owner of a restaurant who claimed a religious justification for denying service to African Americans. Then she compares him to a doctor who wouldn't care for a lesbian couple's baby. She talks about landlords, clinics, and other businesses — all of which could deny services to people "because of who they are."

… . Phillips isn't discriminating against a protected class. I'll repeat this until I'm blue in the face. He serves gay customers.

If a black baker refuses a white customer's request to design a Confederate-flag cake, he's not discriminating on the basis of race. He's refusing to advance a message.

If a police officer's wife refuses a black customer's request to design a cake celebrating Assata Shakur, a convicted cop-killer and one of the FBI's most-wanted terrorists, she's not discriminating on the basis of race. She's refusing to advance a message. I could go on all day. (National Review. "Stop Misrepresenting Masterpiece Cakeshop.")
I believe he could go on all day.
Last week's oral arguments before the court may not have done justice to Masterpiece's case on this point, but it's likely that its legal briefs do. Jeff Shafer, of the Alliance Defending Freedom, which represents Phillips in the case, is incisive on what's truly at issue.
While the existence of social forms and practices that symbolically communicate are human constants, many of the particulars conveying those messages are historically contingent—and at times intensely contextual.

Burning a flag would be just one more kind of fire, in a society without flags in its repertoire of political meaning-markers. But in modern American constitutional jurisprudence, burning a flag can qualify as protected expression under the First Amendment's speech clause. If the context indicates, so can wearing an armband. Or silently walking in a parade. Or playing the violin. So can refusing to do any of those things: The Supreme Court has found the First Amendment's protection for individual freedom of mind to shield not only one's speech, but also refusal to speak. The state may not compel an individual "to utter what's not in his mind." ("Masterpiece Wedding Cakes: The Context-Dependence of Meaning," Jurist.)
Later, he makes the connection to wedding cakes, and raises an important question:
The wedding cake is an institution. It has long been the centerpiece of receptions celebrating the joining of husband and wife… . . It is the object of a symbolic unity ritual that marks and orients the wedding reception. Its image represents and honors new nuptial union.

When that iconic cake is relocated to celebrate a same-sex relationship, the expressive alteration is severe.

… . These messages Jack Phillips knows to be sacrilege, and his participation in the custom design of the sculpture that represents and ratifies those claims is morally forbidden him. Yet his adversaries assert that he faces no such predicament. The ACLU (representing the male couple joining the state in suing Jack in this case) dully describes the government coercion of his artistry on behalf of a celebration representing the renovation of marriage and family as merely requiring he sell "the very same product" he would design for husband-wife ceremonies. The very same?
They are not the same: "Messages — be they symbolic, spoken, written — yield their meaning through complex engagement with the features of spatial, cultural, and narrative environments."
In the oral arguments, Colorado's Frederick Yarger labored mightily to keep the issue framed in terms of turning away customers rather than affirming a message. At times, he faltered.
MR. YARGER: Well, Your Honor, again, it — it — the decision by this bakery was it wouldn't sell any product -­

JUSTICE ALITO: No -­

MR. YARGER: — of any kind, not even when the same -­

JUSTICE ALITO: — that's not right, Mr. Yarger. It's a disturbing feature of your brief because this case was decided on summary judgment, and, therefore, you have to view the facts in the light most favorable to Mr. Phillips. And the only thing he admitted and what was said in the undisputed — the list of undisputed facts was he would not create — he was very careful to use the word "create." Is that wrong?

MR. YARGER: That's not incorrect, Your Honor. What — what he has said is that all of his wedding cakes are custom-made. And so what he said is that he would have a right to refuse that service to anyone whose identity in his view means that the message has changed. And he does not want to sell it to them.

It would be akin to a -­

JUSTICE ALITO: And we have a history of — in the questioning by — of Petitioners' counsel, we explored the line between speech and non-speech, but as I understand your position, it would be the same if what was involved here were words. Am I wrong? If he would put a particular form of words on a wedding cake, on a cake for one customer, he has to put the same form of words, the same exact words, on a wedding cake for any other customer, regardless of the context?

MR. YARGER: That's — that's right … (Official Transcript, pp. 68-70)
We all know that context determines meaning, and with this admission, Yarger revealed that his case depends largely on a denial of the obvious.
3. The case is not about what Christians ought to do; it's about what the government ought not to be permitted to do.
Shouldn't Christian retailers just let buyers have what they want, regardless? Shouldn't we accept them as they are as we try to reach them for Christ? Shouldn't we stop trying to litigate these conflicts?
This perspective is flawed on three counts.
First, believers are called to a comprehensively Christian way of life, not just to reaching people. How our public policy efforts are perceived by the unbelieving is important, but we're not free to tie off a portion of our lives and put it outside the Lordship of Christ. Since marriage is God's invention, and His word attaches great importance to it, we can't casually disregard it. A compelling case would have to be made to justify doing work that affirms an anti-Christian view of marriage.
Second, the question of what's wrong is distinct from the question of what ought to be illegal. It's wrong to covet, but should covetousness be illegal? People shouldn't lie, but should the government regulate all forms of dishonesty? Examples could be multiplied. Regardless of whether Phillips ought to refrain from making cakes for gay weddings, the government ought not to require him to do so.
Finally, God has instituted "the governing authorities" (Rom. 13:1) precisely because He cares what the citizens of nations are allowed and not allowed to do (1 Pet. 2:13-14). Conduct matters, even for the lost, and public policy is neither unimportant nor neutral for Christians. Further, in a republic, the "governing authority" is the law, and the government itself is subject to it. So God also cares what government is allowed and not allowed to do.
It ought not to allowed to force anyone to create a symbol that affirms what the maker doesn't truly believe.
Once again, David French:
There is no slippery slope between Masterpiece Cakeshop and segregated lunch counters. There is no ambiguity as to whether the design of the cake in this case communicated a message. The Supreme Court can, in fact, rule in favor of Jack Phillips without doing the slightest bit of harm to generations of civil-rights case law. In fact, it can explicitly reaffirm its rulings in those cases at the same time that it defends free speech. It's that simple. It cannot, however, rule against Phillips without committing an act of judicial violence against both the First Amendment and common sense. ("George Will Is Wrong about Masterpiece Cakeshop," National Review.)
---
Aaron Blumer is a Michigan native and graduate of Bob Jones University and Central Baptist Theological Seminary (Plymouth, MN). He and his family live in small-town western Wisconsin, not far from where he pastored Grace Baptist Church for thirteen years. In his full time job, he is content manager for a law-enforcement digital library service.
2515 reads
6440 reads