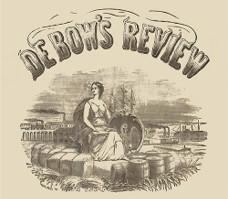 Today, we conclude this article from the September 1850 issue of DeBow's Review. ​The anonymous author presents a "Scriptural defense" of slavery from the Bible.1
After the Israelites had been a long time in Egypt, they became servants to the Egyptians. At this time, God sent Moses, as a messenger, to bring them out of Egypt. Through Moses, God gave them laws by which they were to be governed. No law which came directly from him (the fountain of morality), can be considered morally wrong; it might be imperfect, in not providing for circumstances not then existing—but, so far as it does provide, the provisions are correct. Nothing which God ordained can be a crime, and nothing for which he gave express permission can be considered wrong.

In Leviticus xxv, we are told, that the Lord spake to Moses, saying:

Speak unto the children of Israel, and say unto them—after various provisions of the law, the 39th verse reads as follows, in regard to servitude: If thy brother that dwelleth by thee be waxen poor, and be sold unto thee, then shalt not compel him to serve as a bond-servant, but as an hired servant, &c.

—clearly showing that there was a distinction between bond-servant and hired-servant. After providing for the case of a Hebrew servant, verses 44, 45, and 46, of the same law, read as follows:

Both thy bondmen, and thy bondmaids, which thou shalt have, shall be of the heathen that are round about you; of them shall ye buy bondmenand bondmaids. Moreover, of the children of the strangers that do sojourn among you, of them shall ye buy, and of their families that are with you, which they begat in your land; and they shall be your possession. And ye shall take them as an inheritance for your children after you, to inherit them for a possession; they shall be your bondmen for ever.

In Exodus xxi, 20, 21, we find this law:

And if a man smite his servant, or his maid, with a rod, and he die under his hand, he shall be surely punished. Notwithstanding, if he continue a day or two, he shall not be punished: for he is his money.

The 26th and 27th verses of the same chapter provide, that if the servant have lost an eye or a tooth, by a blow from the master, the servant should go free.

The 29th, 30th, 31st, and 32d verses provide, that if an ox was known to be vicious and killed a freeman, the ox and his owner were both put to death; but if he gored a bond-servant, the ox should be killed and the master should pay thirty shekels of silver: showing the distinction between bond and freemen.

The law given to the Israelites, in regard to circumcision, required the master to circumcise his male servant, bought with his money or born in his house; and, of course, it presupposes the right and power to enforce the circumcision.

Thus, we see that at a time when the Israelites had no slaves, but were themselves, in a manner, fugitive slaves, and when they had no use for slaves, being wanderers in a wilderness, and fed by God's own hand, he provided laws for bringing in, buying, inheriting and governing, slaves, in the land unto which they were to be brought at the end of forty years. He made laws recognizing the right of property, in man and in his descendents, forever—the right to trade in that property, without any limit, except that the Israelites could not buy each other; and the right to punish the slave, with no limitation, except that if the slave should die under his master's hand, the master should be punished—and if maimed, in certain ways, he had a right to freedom.

These laws are worse, for the slave, than the laws of any southern State. They were provided, by God himself, for his chosen people. To any man, who admits that the Bible is given by inspiration from God, they prove that, in buying, selling, holding and using slaves, there is no moral guilt. Like all the institutions of the Deity, the holding of slaves may become criminal, by abuse of the slave; but the relation, in itself, is good and moral.

In the New Testament I find frequent mention of master and servant, and of their duties. Paul and Timothy, in writing to the Colossians, in the third chapter and twenty-second to twenty-fifth verses, exhort servants to obey their masters in all things, and not with eye-service; and in the fourth chapter and first verse, they exhort masters to give their servants what is just and equal.

Paul, in writing to Timothy, tells him to teach the same doctrine; and says, if any man teach otherwise, he is proud, knowing nothing, but doting about questions and strifes of words: see 1 Timothy vi, 1–6. Peter, also (1 Peter ii, 18–24), exhorts servants to be obedient to their masters, not only to the good and gentle, but to the froward.

Now, we all know, that the condition of the servant of the Roman empire, was much less free than that of the southern negro. His master had a more unlimited control over him; yet, the apostles say to servants, to submit to their masters—not only to the good and gentle, but to the froward; and to masters to give to their servants what is just and equal. Now, had they considered the relation of master and slave, one criminal or immoral, in itself, they must either have omitted to speak of it at all, or have condemned the relation altogether.

Paul wrote an epistle to Philemon, a Christian, a disciple of his, and a slaveholder. He sent it to him by Onesimus, also a convert, a slave of Philemon, who was a fugitive. In it, he prays Philemon to charge the fault of Onesimus to him, saying he would repay it, unless Philemon forgave it for his sake.

Now, had the holding of slaves been a crime, Paul's duty to Philemon would have required him to instruct Philemon, that he had no rights over Onesimus, but that the attempt to hold him in servitude was criminal; and his duty to Onesimus would have been, in such case, to send him to some foreign free country, whereby he might have escaped from oppression. But Paul sent him back. Our northern friends think that they manage these matters better than Paul did.

We find, then, that both the Old and New Testaments speak of slavery—that they do not condemn the relation, but, on the contrary, expressly allow it or create it; and they give commands and exhortations, which are based upon its legality and propriety. It can not, then, be wrong.

What we have written is founded solely upon the Bible, and can have no force, unless it is taken for truth. If that book is of divine origin, the holding of slaves is right: as that which God has permitted, recognized and commanded, cannot be inconsistent with his will.
Notes
1 This article is in the public domain, and was taken from Paul Finkelman, Defending Slavery: Proslavery Thought in the Old South – A Brief History with Documents (New York, NY: St. Martins, 2003), 109-114.
8611 reads