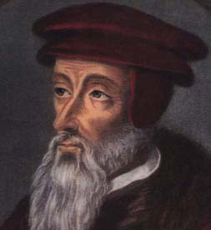 John Calvin is most often known for his views on soteriology, anthropology and theology proper. He actually wrote a great deal more than this, of course. However, many Christians have not bothered to read anything else from him. In this excerpt, Calvin explains what a Christian's duty is to a true church, and the grace Christians should show to one another in matters of minor disagreement. Indeed, Calvin believed we should "pardon delusion" amongst ourselves on unimportant issues. We should refrain from "inconsiderate zeal" and "immoderate severity."
I'll let Calvin explain the rest:1
We have said that the symbols by which the Church is discerned are the preaching of the word and the observance of the sacraments, for these cannot any where exist without producing fruit and prospering by the blessing of God. I say not that wherever the word is preached fruit immediately appears; but that in every place where it is received, and has a fixed abode, it uniformly displays its efficacy.

Be this as it may, when the preaching of the gospel is reverently heard, and the sacraments are not neglected, there for the time the face of the Church appears without deception or ambiguity; and no man may with impunity spurn her authority, or reject her admonitions, or resist her counsels, or make sport of her censures, far less revolt from her, and violate her unity.

For such is the value which the Lord sets on the communion of his Church, that all who contumaciously alienate themselves from any Christian society, in which the true ministry of his word and sacraments is maintained, he regards as deserters of religion … Whence it follows, that revolt from the Church is denial of God and Christ. Wherefore there is the more necessity to beware of a dissent so iniquitous; for seeing by it we aim as far as in us lies at the destruction of God's truth, we deserve to be crushed by the full thunder of his anger. No crime can be imagined more atrocious than that of sacrilegiously and perfidiously violating the sacred marriage which the only begotten Son of God has condescended to contract with us.

Wherefore let these marks be carefully impressed upon our minds, and let us estimate them as in the sight of the Lord. There is nothing on which Satan is more intent than to destroy and efface one or both of them—at one time to delete and abolish these marks, and thereby destroy the true and genuine distinction of the Church; at another, to bring them into contempt, and so hurry us into open revolt from the Church.

To his wiles it was owing that for several ages the pure preaching of the word disappeared, and now, with the same dishonest aim, he labours to overthrow the ministry, which, however, Christ has so ordered in his Church, that if it is removed the whole edifice must fall. How perilous, then, nay, how fatal the temptation, when we even entertain a thought of separating ourselves from that assembly in which are beheld the signs and badges which the Lord has deemed sufficient to characterise his Church!

We see how great caution should be employed in both respects. That we may not be imposed upon by the name of Church, every congregation which claims the name must be brought to that test as to a Lydian stone. If it holds the order instituted by the Lord in word and sacraments there will be no deception; we may safely pay it the honour due to a church: on the other hand, if it exhibit itself without word and sacraments, we must in this case be no less careful to avoid the imposture than we were to shun pride and presumption in the other.

When we say that the pure ministry of the word and pure celebration of the sacraments is a fit pledge and earnest, so that we may safely recognise a church in every society in which both exist, our meaning is, that we are never to discard it so long as these remain, though it may otherwise teem with numerous faults.

Nay, even in the administration of word and sacraments defects may creep in which ought not to alienate us from its communion. For all the heads of true doctrine are not in the same position. Some are so necessary to be known, that all must hold them to be fixed and undoubted as the proper essentials of religion: for instance, that God is one, that Christ is God, and the Son of God, that our salvation depends on the mercy of God, and the like.

Others, again, which are the subject of controversy among the churches, do not destroy the unity of the faith; for why should it be regarded as a ground of dissension between churches, if one, without any spirit of contention or perverseness in dogmatising, hold that the soul on quitting the body flies to heaven, and another, without venturing to speak positively as to the abode, holds it for certain that it lives with the Lord?

The words of the apostle are, "Let us therefore, as many as be perfect, be thus minded: and if in any thing ye be otherwise minded, God shall reveal even this unto you," (Phil. 3:15.)

Does he not sufficiently intimate that a difference of opinion as to these matters which are not absolutely necessary, ought not to be a ground of dissension among Christians? The best thing, indeed, is to be perfectly agreed, but seeing there is no man who is not involved in some mist of ignorance, we must either have no church at all, or pardon delusion in those things of which one may be ignorant, without violating the substance of religion and forfeiting salvation.

Here, however, I have no wish to patronise even the minutest errors, as if I thought it right to foster them by flattery or connivance; what I say is, that we are not on account of every minute difference to abandon a church, provided it retain sound and unimpaired that doctrine in which the safety of piety consists, and keep the use of the sacraments instituted by the Lord. Meanwhile, if we strive to reform what is offensive, we act in the discharge of duty. To this effect are the words of Paul, "If any thing be revealed to another that sitteth by, let the first hold his peace," (1 Cor. 14:30.)

From this it is evident that to each member of the Church, according to his measure of grace, the study of public edification has been assigned, provided it be done decently and in order. In other words, we must neither renounce the communion of the Church, nor, continuing in it, disturb peace and discipline when duly arranged.

Our indulgence ought to extend much farther in tolerating imperfection of conduct. Here there is great danger of falling, and Satan employs all his machinations to ensnare us. For there always have been persons who, imbued with a false persuasion of absolute holiness, as if they had already become a kind of aërial spirits, spurn the society of all in whom they see that something human still remains. Such of old were the Cathari and the Donatists, who were similarly infatuated. Such in the present day are some of the Anabaptists, who would be thought to have made superior progress.

Others, again, sin in this respect, not so much from that insane pride as from inconsiderate zeal. Seeing that among those to whom the gospel is preached, the fruit produced is not in accordance with the doctrine, they forthwith conclude that there no church exists …

Still those of whom we have spoken sin in their turn, by not knowing how to set bounds to their offence. For where the Lord requires mercy they omit it, and give themselves up to immoderate severity. Thinking there is no church where there is not complete purity and integrity of conduct, they, through hatred of wickedness, withdraw from a genuine church, while they think they are shunning the company of the ungodly.

They allege that the Church of God is holy. But that they may at the same time understand that it contains a mixture of good and bad:

Let them hear from the lips of our Saviour that parable in which he compares the Church to a net in which all kinds of fishes are taken, but not separated until they are brought ashore.
Let them hear it compared to a field which, planted with good seed, is by the fraud of an enemy mingled with tares, and is not freed of them until the harvest is brought into the barn.
Let them hear, in fine, that it is a thrashing-floor in which the collected wheat lies concealed under the chaff, until, cleansed by the fanners and the sieve, it is at length laid up in the granary.

If the Lord declares that the Church will labour under the defect of being burdened with a multitude of wicked until the day of judgment, it is in vain to look for a church altogether free from blemish, (Matth. 13.)

They exclaim that it is impossible to tolerate the vice which everywhere stalks abroad like a pestilence. What if the apostle's sentiment applies here also? Among the Corinthians it was not a few that erred, but almost the whole body had become tainted; there was not one species of sin merely, but a multitude, and those not trivial errors, but some of them execrable crimes. There was not only corruption in manners, but also in doctrine.

What course was taken by the holy apostle, in other words, by the organ of the heavenly Spirit, by whose testimony the Church stands and falls? Does he seek separation from them? Does he discard them from the kingdom of Christ? Does he strike them with the thunder of a final anathema? He not only does none of these things, but he acknowledges and heralds them as a Church of Christ, and a society of saints.

If the Church remains among the Corinthians, where envyings, divisions, and contentions rage; where quarrels, lawsuits, and avarice prevail; where a crime, which even the Gentiles would execrate, is openly approved; where the name of Paul, whom they ought to have honoured as a father, is petulantly assailed; where some hold the resurrection of the dead in derision, though with it the whole gospel must fall; where the gifts of God are made subservient to ambition, not to charity; where many things are done neither decently nor in order: If there the Church still remains, simply because the ministration of word and sacrament is not rejected, who will presume to deny the title of church to those to whom a tenth part of these crimes cannot be imputed?

How, I ask, would those who act so morosely against present churches have acted to the Galatians, who had done all but abandon the gospel, (Gal. 1:6,) and yet among them the same apostle found churches?
Notes
1 John Calvin, Institutes of the Christian Religion, trans. Henry Beveridge (Edinburgh: The Calvin Translation Society, 1845), 4.1.10-14.  
7813 reads