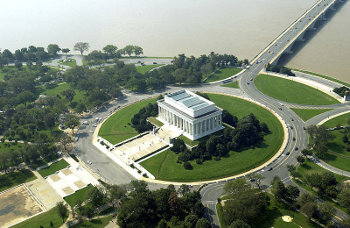 The Lincoln memorial in Washington D.C. is hallowed ground in my book. I stood at this sacred spot in 2005 and was deeply moved.
Lincoln's memorial stands at the head of a cross-shaped layout of memorials on the Washington mall. Most guides will adamantly deny any intentional symbolism. My guide was willing not only to concede the obvious, but to reference primary source documents wherein the original designers of the mall detail plans to arrange the memorials in the shape of a cross so as to pay tribute to the profound influence of Jesus Christ upon this nation.
Possessed of this insight, I stood on the steps of the Lincoln memorial looking down the length of "the cross" toward the Washington monument (at the cross' nexus). Owing my spiritual life and joy to Jesus (whom having never seen I mysteriously love, 1 Peter 1:8), my heart surged with thanksgiving and wonder to contemplate the hand of divine providence upon this nation and upon my own life.
My near ecstasy continued as I read Lincoln's second inaugural address etched into the wall of the north enclave of the memorial. The third column in particular held my rapt attention. Herein Lincoln explicates the doctrine of divine providence. Only a dwindling minority of Americans could define the meaning of God's providence today. This was not the case during the Civil War. Nor was it the case for Lincoln who found in the doctrine of divine providence—God's preserving and governing power over nature and history—essential ballast to endure those tumultuous days with hope.
I read that text as one tapping the mind of a soul-mate—connecting across the centuries with one who understood a truth so precious to my own heart. Meditating on this rich text, I was deeply moved to consider the enormity of Lincoln's influence upon African-Americans, the union of our nation, and ultimately upon world history. My spirit soared. I was very alive.
Standing there with a lump in my throat, nearly overwhelmed by the significance of what I was experiencing, the words of an adolescent boy reached my ears. Betraying an acute case of boredom, he asked a woman who was obviously his mother: "Is this all there is to see?"
The kid's question broke the hushed reverence that prevails at the memorial with all the effect of fingernails scratching a chalkboard. His mother wisely ignored the question, perhaps silently praying it would dissipate into thin air before anyone took notice of it. But the boy repeated his query with heightened intensity: "Is this all there is to see?"
That poor mother had undoubtedly invested no small amount of time, effort and money to provide this experience for her unappreciative progeny. But realizing he would not take her silence as a cue to hold his tongue, she cast a knowing glance at others around her and answered simply: "I love you, Honey."
The clueless boy responded with disgust: "I knew it! We walked all this way for nothing!" It is indeed a bit of a hike to the Lincoln memorial. But some of us would make the journey with glad heart through a howling blizzard. It's all a matter of perspective—all a matter of what is in your mind and heart.
I believe this brief episode fairly illustrates the matter of spiritual perception. Some are enraptured with the contemplation of God; others are dead to it. Some lift songs of praise to Jesus; others are bored stiff by the very same exercise. Some delight to contemplate the truth of God's words; others find the discipline terribly dull and pointless, if not offensive. Some thrill to know Jesus personally; others are content to follow religious ritual.
The difference is not ultimately one of physical maturity. It is one of experience. While the boy at the Lincoln memorial was dead to the significance of what he saw, maturation may someday open his eyes. But no one grows out of spiritual blindness. It is a state from which we must be rescued (Eph. 2:1-3; 4:17-19).
The good news is that such rescues are God's delight. He rejoices to reveal to spiritually blind eyes the wonders of His glories and to soften hard hearts to His truth. "No one knows the Father," declared Jesus, "except the Son and anyone to whom the Son chooses to reveal him" (Matt. 11:27).
Please understand: If you are not captivated by the wonder of God, it is not because He is not wonderful. It is because you are spiritually blind. That is not something you can change on your own. Jesus must reveal the Father to you. But having claimed the sovereign right to reveal the Father to whom He chooses (Matt. 11:27), Jesus follows with this open-armed invitation: "Come to me, all who labor and are heavy laden, and I will give you rest" (Matt. 11:28).
And He really will. He delights to replace anguished, spiritual blindness with the eternal rest of eyes wide open to his glories (Matt. 11:29-30). What merciful grace! What genuine delight!
Someday you will stand, not before the statue of a dead president, but before the throne of the living and reigning Christ (Phil. 2:9-11). On that day will you be filled with rapturous delight in God's presence and feed on His every word, or will you be dead to the glories of Christ? Will you fall in adoration before the welcoming face of Jesus, or will you be anxious to leave His presence for a Christless eternity?
Finding delight in God is not a matter for this life alone. If that were the case, many would choose the delights of this world, gladly pass on the option of enjoying God, and that would be the end of the matter. But this is not how it works. If you do not find Jesus the joy of your soul in this life, you will endure the anguish of utter separation from Him in the next (Luke 16:19-31; 2 Thess. 1:5-10). In other words, your blindness to His glories will become permanent and you will realize that you walked this earth "for nothing." And that would be the ultimate of tragedies.
---
Dan Miller has served as the Senior Pastor of Eden Baptist Church since 1989. He graduated from Pillsbury Baptist Bible College with a B.S. degree in 1984 and his graduate degrees include a M.A. in History from Minnesota State University, Mankato, and the M.Div. and Th.M. from Central Baptist Theological Seminary. He is nearing completion of D.Min. studies at Trinity Evangelical Divinity School. Dan is married to Beth and the Lord has blessed them with four children: Ethan, Levi, Reed and Whitney.
5989 reads