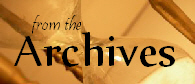 By Dr. Dave Burggraff
Read Part 1. First appeared at SI on July 21, 2005. Original article and discussion thread.
The Distinctions between the Reformed and Dispensational Positions
Today there is seen a growing uneasiness over dispensationalists who seem to be moving toward a Reformed position on sanctification. To be sure, it should be noted that there is much agreement between the dispensational and the Reformed positions. Agreement would include the following: that the Holy Spirit plays an indispensable role in sanctification, that sanctification involves both sovereign grace and human responsibility, that sanctification must be progressive, and that the baptism of the Holy Spirit means the placing of people into the body of Christ—a divine blessing that is to be distinguished from the filling of the Holy Spirit, that the regenerated person has eternal security, that the believer cannot attain sinless perfection in this present life, and that such perfection will be reached only in the life to come. Both agree that sanctification is a process.
Nevertheless several significant differences remain. Basic areas of disagreement include the relationship between justification and sanctification, the relationship between divine sovereignty and human participation in the process of sanctification, and the question of whether the believer has one or two natures. In the responses by Hoekema and Walvoord to each others views, however, the most prominent area of disagreement seems to be on the issue of the believer's nature(s). It is over this area where, in some circles, there is currently movement from/between the Augustinian-dispensational and Reformed positions.
It is not uncommon to hear dispensationalists express themselves in terms formerly considered strictly Reformed. Expressions such as God "cures our sinful nature," or God "eradicates our sinfulness," or "in sanctification the old nature is progressively being eradicated" are being used favorably by some dispensationalists—these were formerly expressions of the Reformed theologian, B. B. Warfield. It is also common to hear those of the Reformed perspective holding to variations from the traditional historic Reformed perspective, especially when it comes to the interpretation of Romans 7.
Differences on Justification and Sanctification
For nearly a century a fundamental difference between dispensationalists and Reformed theologians has been the relationship between justification and sanctification. Dispensationalists have made a temporal or experiential bifurcation between justification and sanctification, drawing a sharp distinction between justification and progressive sanctification. This bifurcation is evident in the time interval many dispensationalists see between conversion and the beginning of progressive sanctification by making the latter conditioned on the believer's "yieldedness." Such a two-stage, crisis oriented view of sanctification stands in sharp contrast to the unity of salvation expressed by Reformed theologians, who see justification and sanctification as joined in such a way that to experience one necessarily involves experiencing the other. There is an element of dispensationalists today who are no longer at ease with the necessity of a second crisis experience, for they see it as indistinguishable from what is ordinarily understood by the doctrine of a "second blessing," or "second work of grace." There is also discussion among both dispensationalists and Reformed thinkers regarding the whole program of salvation that calls attention to the eschatological aspects of salvation, the result being a salvation that emphasizes a "forward look" rather than simply a "backward look."
The Expressions "Sin Nature" and "Sinful Nature"
Recognizing the conflict between sin and righteousness in a Christian, Augustine, in writing City of God, quoted and discussed Galatians 5:16-17. Augustine found in the Christian both the continuance of sin in some form and a resulting conflict of the flesh with the new nature and with the Holy Spirit. If a Christian has indwelling sin, described in Scripture as "flesh"—something that was not eradicated by the new birth—the question remains whether this factor should be referred to as "the sin nature."
Augustinian-dispensationalists emphasize that Christians have two distinct natures: a "sin nature" and a "new nature." The sin nature can be described as "a complex of human attributes that demonstrate a desire and predisposition to sin," and the new nature as "a complex of attributes having a predisposition and inclination to righteousness."
That is, the believer still has an old nature–a complex of attributes with an inclination and disposition to sin; and a new nature, received (along with eternal life) at the time of the new birth, also has a complex of attributes, but these attributes incline and dispose the Christian to a new manner of life, one that is holy in the sight of God. From the Augustinian-dispensational perspective, the basic problem of sanctification is how individuals with these two diverse aspects in their total character can achieve at least a relative measure of sanctification and righteousness in their life. The old nature has a tendency to sin and the new nature a tendency to act in righteousness, hence, these two natures are in the struggle that is described in Romans 7:14-25. The ultimate sanctification of believers in heaven is assured, but Christians do not automatically experience sanctification on earth simply because they they have been made new creatures in Christ.
Reformed theologians agree that Christians have a new nature, as defined above, received at regeneration. However, Reformed theologians have trouble with the term "sin nature," preferring rather the term sinful nature. It is pointed out that the word translated "flesh" in Galatians 5:15-17 is sometimes rendered "sinful nature," as in the New International Version. Reformed theologians point out that dispensationalists fail "to do full justice to the fact that a decisive break with sin was brought about by Christ for believers (Rom. 6:6)—so that sin, though still present in the believer, no longer has dominion (v. 14)." Emphasis is placed on 2 Cor. 5:17, that the believer is now a new creature, old things having been passed away. Believers now "walk in newness of life" (Rom. 6:4).
Interpreting the "Old Man" or "Old Self"
The term old self is found in Rom. 6:6; Col. 3:9; and Eph. 4:22. The term new self is found in Col. 3:10 and Eph. 4:24. In these passages Paul contrasts the old self associated with the life of sin with the new self that we have put on, now that we are in Christ. On the question of the relation between these two selves, Reformed theologians differ among themselves as do dispensationalists. Reformed theologians who wrote and taught years ago, and most dispensationalists, hold that the old self and the new self are distinguishable aspects of the believer. Before conversion believers had an old self; at the time of conversion, however, they put on the new self—but without totally losing the old self. The Christian, on this view, is understood to be partly a new self and partly an old self; the struggle of life, according to this view, is the struggle between these two aspects of the believers being. As stated by a proponent of this view years ago:
The struggle [in the Christian life]…is between the inner man of the heart,…and the old man who, though driven out of the center, still wants to maintain his existence, and who fights all the more fiercely the more territory he loses…. This struggle is between two people in the same person…. In all his thoughts and actions something of the old and something of the new man is present.
Against this view, Reformed theologian John Murray writes:
The contrast between the old man and the new man has frequently been interpreted as the contrast between that which is new in the believer and that which is old…. When [the believer] does well he is acting in terms of the new man which he is; when he sins he is acting in terms of the old man which he also still is. This interpretation does not find support in Paul's teaching.
Agreeing with Murray, Hoekema cites Rom. 6:6 ("For we know that our old man was crucified with him so that the body of sin might be rendered powerless, that we should no longer be slaves to sin.") and explains that Paul is here talking about a totality: the total person enslaved by sin—what we all are by nature. That "person enslaved by sin," Paul is saying, was crucified with Christ. When Christ died on the cross he dealt a deathblow to the old self that we once were. "New self" now refers to the total person ruled by the Holy Spirit.
It is asserted that this problem can be resolved if it is understood that "old man" and "new man" are references not to the old or new nature, or self, but rather to the old manner of life, which is an expression of the old nature, and to the new manner of life, which is an expression of the new nature.
Interpretation of Romans 7:14-25
Does this passage describe the regenerate person's struggle with sin, or the experience of an unregenerate person struggling to fight sin through the law alone, apart from the strength of the Spirit? The historic Calvinist (and Reformed) view, stemming from Augustine, had been that this was the struggle going on in a regenerate person. Historically, this has been the view of most Augustinian-dispensationalists. The importance of Romans 7 to those of the Augustinian-dispensational perspective is apparent in that it supports the two natures within the Christian.
Two excellent studies on this passage have been recently published. In his commentary on Romans, Douglas Moo takes the view of the unregenerate. He also describes the importance of Romans 7 to the issue of sanctification.
One can preach this paragraph in its basic intention, without even making a definite identification of the ego. Few of us, however, would be satisfied to leave this question unanswered—and even fewer congregations will be satisfied with sermons that fail to deal with the matter! And rightly so…. Our identification of the person whose struggle Paul depicts in this text does have an impact on several theological and practical issues. One of the most important of these is the nature of the Christian life…. It is partly because expositors of Rom 7 exegete this text with an eye on these larger issues that they have divided so sharply over its interpretation.
Thomas Schreiner takes a view that is gaining popularity, and he proposes a view different from the two common views.
But the passage does not intend to adjudicate between Christian and pre-Christian experience. It centers on the inherent inability of the law to transform…. The law, although good, cannot be the agent of transformation and renewal, for the law itself does not bestow the ability to keep its commands…. In the history of interpretation debate has largely centered on whether Paul describes Christian or pre-Christian experience here…. My comments above indicate neither view is precisely on the mark.

…Paul reflects on whether the law has the ability to transform human beings, concluding that it does not. The law puts to death unbelievers who desire to keep it, since they lack the power to keep it…. And yet since believers have not experienced the consummation of their redemption, they are keenly aware of their inherent inability to keep God's law…. In encountering God's demands, we are still conscious of our wretchedness and inherent inability. The struggle with sin continues for believers because we live in the tension between the already and not yet…. Christians, precisely because they have not yet experienced full liberation from sin, are conscious of the continuing presence of sin in their lives.
The Delineation of Sanctification
Definition of sanctification.

Progressive sanctification is that continuous operation of the Holy Spirit using the Word to strengthen the new life begun at regeneration.

It is that spiritual process of conforming the believer to the image of Jesus (Rom 8:29).

Sanctification is a lifelong process, never fully complete.

Man is never in this life fully free from sinful tendencies in this life (John 13:10; Rom 6:12; 1 John 1:8).

Flesh and new nature are in constant conflict (Gal 5:17; Eph 4:22-23; James 4:5; 1 John 1:8).

Sanctification is not living totally without sin but living with decreasing frequency of sin and increasing awareness of sinfulness (Rom 8:13-14; 1 Cor 6:11; Gal 2:20; Col 3:5).

Sanctification is a special work of the Holy Spirit.

He teaches, leads into truth (John 14:26).

He is present to guide and direct (Rom 8:4-14).

He bears witness (Rom 8:15-17).

He enables production of fruit of the Spirit (Gal 5:16-21).

Explanations important to understanding sanctification.

Sanctification is the work of God (1 Thess 5:23); it is not a human process.

It is a continuous, ongoing process (Phil 1:6; 3:15; Col 3:9-10).

It has periods of rapid or slower growth (Eph 4:15; 1 Thess 3:12; 2 Pet 3:18).

Growth often corresponds to a believer's surrender and obedience (Phil 2:12-13; Col 3:5-11; 1 Pet 2:2).

The efficient agent of growth is the Holy Spirit (John 14:17-18; 15:3-5; Rom 8:9-10; 1 Cor 1:2, 30; 6:19; Gal 5:16; Eph 5:18; 2 Tim 1:14).

The instrumental agent of sanctification is faith, hearing and heeding Scripture (Acts 15:9; Rom 1:17).

Just as salvation is not of works, sanctification is not of human efforts.

It is as hard for a saved man to forsake human effort and yield to the Holy Spirit for growth as it is for an unsaved man to forsake works and trust Christ for salvation.

The object of faith in sanctification is Jesus, particularly the provision of His shed blood (2 Cor 3:18; Eph 4:13; Heb 12:1-2; 1 John 1:7; 3:3).

Our faith-response can be strengthened or may diminish (Matt 9:29; Luke 17:5; Rom 12:2; 13:14; Eph 4:24; Col 1:10; 1 Tim 4:7).

Analogy: physical growth is not by determination (Matt 6:27) but by food, exercise, rest, and time; similarly, there are means of spiritual growth.

Spiritual growth is not by some sacramental means of grace.

Spiritual growth comes by a faith-receptive walk with Jesus: reading, hearing Scripture, meditating, praying, singing, witnessing, suffering (Josh 1:8; John 6:48, 51; 17:17; Phil 3:12; 1 John 1:8).

Areas of agreement concerning sanctification. Can we benefit from ways other groups speak of a holy life?

Concern is with the process of cultivating a holy life.

Although by definition a work of the Holy Spirit, sanctification includes choices by the believer against evil and for paths of righteousness.

It is normal for a believer to be successful in the process of spiritual growth and departure from paths of sin; total failure is abnormal.

There is often greater concern about the hindrances to sanctification (world, flesh, Devil); separation is primarily unto God and thus from iniquity.

Related doctrines affect a proper view of sanctification.

We must recognize divine and human sovereignty, human responsibility.

Baptism of the Holy Spirit is a placing into the body of Christ, not a second work of grace.

Filling of the Spirit is control; it is important to spiritual growth but not the same as sanctification.

Sinless perfection is not reached in this life.

Concepts of the old nature and the new nature.

The sinful nature or flesh is that remaining tendency to neglect or disobey God.

It formerly held full sway; it must after conversion be kept under control.

A believer is to mortify, to put to death sinful deeds, defilements (Rom 8:13; Col 3:5-8; 2 Cor 7:1).

It enslaved (Rom 6:6), was manifest in lies (Col 3:9-10) and deceitful lusts (Eph 4:20-24).

Believers are not two selves (old man, new man), but the one person still has sinful tendencies.

Sin is not in the physical body but a remaining disposition of the heart, the desires of the soul.

The new man is genuinely new, though the life of the believer is not totally new (Eph 4:23; 2 Cor 5:17).

The new man is to grow in knowledge (Col 3:10; 2 Pet 3:18).

Believers are to be continually being made new in the understanding and attitude of their minds (Rom 12:2; Eph 4:23).

Believers are to put to death the misdeeds of the body (Rom 8:13), to reckon themselves to be dead unto sin (Rom 6:11), not responding to sinful inclinations, illus: cancer in remission.

Believers are to cleanse themselves from all filthiness, from everything that contaminates (2 Cor 7:1; Col 3:5, 8).

The believer is to battle sin within and round about (Eph 6:11-13; 1 Tim 6:12; 1 Cor 9:26-27; 2 Tim 4:7).
---

Dr. Dave Burggraff is Chaplain and Professor of Systematic Theology at Shepherds Theological Seminary. He earned his PhD at Dallas Theological Seminary and also holds degrees from the Univ. of Minnesota, Calvary Baptist Theological Seminary and Maranatha Baptist Bible College.
3343 reads