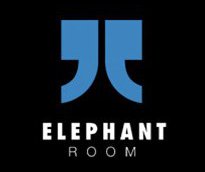 The second annual Elephant Room event is over and the blogosphere is already lit with responses. I had the opportunity to attend a simulcast of the event in Lansing, MI at Riverview Church, one of Mark Driscoll's Acts29 church plants. During the event, I tweeted around 100 quotes from the participants using the SharperIron Twitter account and took 4 pages of personal notes.
What follows will not be a summary of each of the seven conversations. That would be an exercise in vain repetition since Trevin Wax masterfully transcribed (and very accurately, might I add) on his blog what each person said, pretty much word for word. You can read it at Kingdom People.
What I do want to do is offer some personal reflections and observations about the event as someone who was able to not merely read what was said but see it said. As is the trouble with properly interpreting emails, so it is with properly interpreting the words of others in a setting like this when you cannot see the facial expressions and body language that sometimes enhance or say more than the person's words.
Theology
There is no doubt that the invitation of Bishop T. D. Jakes sparked a huge controversy and was the focal point of the event leading up to Wednesday. Immediately before The Elephant Room 2 blog announced that Jakes was being invited, it announced that Mark Dever was going to join the event. Then, immediately after the Jakes announcement, the Dever announcement was removed. To my knowledge, no explanation was ever published, from either MacDonald or Dever, as to why Dever withdrew his presence from ER2, but it does not take a seminary class in theology to figure it out.
In conversation number four Jakes and Driscoll discussed the issue of what major or essential doctrines need to be agreed on or confessed in order to be saved and also have fellowship with other believers. In a word, what many anticipated to be the most controversial and heated discussion ended up being anticlimactic. If you have not already done so, I suggest reading through Wax's transcript of this conversation at least twice in order to make sure you really soak in what was said (MacDonald has promised to provide his own transcript of the discussion).
Jakes gives an overview of his journey through different kinds of churches and what has led him to where he is now on the doctrine of the Trinity. Before the event, a number of Jakes' articles on his view of the Trinity resurfaced. I would say that—as many others pointed out—people had reason to be concerned that his articulation of the doctrine of the Trinity doctrine was not orthodox Trinitarianism. Even Driscoll posted about Jakes trinitarian views (no longer available) and upon interacting with them, seemed to indicate that Jakes defined the Trinity in modalistic terms and that he hoped the ER2 would be an opportunity for Jakes to either publicly claim it or recant it. I would say that neither happened.
As Wax's post states, MacDonald and Driscoll asked Jakes if he believed in one God and three persons. Jakes agreed, though he did say he had problems with the term persons and opted rather for the term manifestations. While neither MacDonald nor Driscoll pressed him to explain his problem with persons in describing the Trinity, this is where the issue lies and where the problems with modalism are evident.
One can only speculate that if Dever had been present he would have asked him to explain this better (and rightly so). Even a cursory knowledge of the historical development of the church's struggle to faithfully articulate the doctrine of the Trinity shows that the terms and concepts of essence and person were crucial to the orthodox formulation of the doctrine. Jakes neither explicitly denied the modalism he was taught earlier in his life nor did he explicitly affirm the orthodox doctrine of the Trinity. To be fair to Jakes, he seems to be in the middle (at least in his mind) and did express his struggle with both positions. Some, as MacDonald is on record saying, take the position that to affirm God as three in one is enough and that to ask for more is to go beyond what Scripture requires us to affirm. MacDonald said people should not require him to agree with their articulation of God as three in one. Hearing MacDonald say this, and more, reminded me of reading Stackhouse and (even more) Olson's views of evangelicalism in the recent book Four Views on the Spectrum of Evangelicalism.
In my opinion, what Jakes did affirm at ER2 and what he has gone on record elsewhere saying about the Trinity were not the same, because he is more modalistic elsewhere. Yet they were the same in one respect, because he did reject the use of the term persons which is foundational to orthodox trinitarianism. In discussing this with the others at my table Wednesday, this was the general consensus.
Though this may not be the right comparison, for MacDonald to say you have no right to press me on how I explain God as three in one because there is mystery in the Trinity and we still see through a glass dimly (both of which I can affirm), is akin to saying Christians have no right to ask a Mormon to define what they mean when they say Jesus is the only begotten Son of God and we should therefore call them brothers in Christ. The difference between an orthodox Christian and a Mormon is how we define who Jesus is and how we understand Him to be the only begotten Son of God. As the old saying goes, he who defines the terms wins the debate. In theology, the meaning you give to the terms you use means everything. That's where the difference can lie and that's why we need Jakes to explain why he doesn't like the term persons and what he, or anyone else, means when he affirms that God is three in one. I have no doubt that Jakes has moved away from full blown Oneness theology, and I want to take him at his word, but I also know that he might mean something different than I do when he affirms God as three in one.
Evangelicalism
Though not as controversial or surprising, Steve Furtick squarely put himself in the evangelical camp of Roger Olson's post-evangelicalism when he stated that he is intent on defining and facing the center of theology and not any kind of boundaries. In the first conversation, Furtick also goes on record by identifying himself as a Southern Baptist, though I am sure he would not identify with the SBC.
In the fifth conversation, Graham and Jakes discussed how churches can create racial diversity. This conversation was interesting on two levels. First, the conversation and interaction was very informative about how churches need to, and can, foster racial diversity within their congregations and communities. Time and time again, not only in this conversation but throughout the whole event, Jakes made highly informed and astute observations about race in the church. A few times his comments were followed by utter silence due to the power of his remark. I found myself responding with an audible "Wow!" after many of his comments, and I was not alone in doing so, in my room with over 100 other people.
On another level, the conversation on race between Graham and Jakes gave the opportunity for them to share their ten-year relationship of working together. Graham is a Southern Baptist and Jakes is (as he jokingly stated) a metho-bapti-costal. They have preached in each other's churches and their churches have worshiped together. Graham is the pastor of Prestonwood, which is an SBC church; and Jakes appears frequently on the TBN network as well as Graham through his PowerPoint Ministries. I understand and applaud the desire of these pastors to work toward racial reconciliation in their churches and with other churches, but seeing how they can come together as close as they do is a hard sell for me. I can't see the SBC endorsing Jakes and TBN. I guess that, though Mohler and others have gone a long way in bringing back conservatism to the SBC, there are still more bricks to be laid in the road.
Personalities
It is worth commenting not only on the things said but on the men themselves and how they presented themselves.
Cordeiro's pastoral heart showed through time after time, especially when talking about how to handle pastors who have failed morally. He could be accused of being too lenient, but he showed a desire to love the fallen and restore them to the church. He was very candid about his five year bout with burnout and again offered good pastoral advice to others struggling with it.
Loritts was the most Reformed pastor there (he is on the board of TGC), and he was not afraid to go after watered down preaching practices that could characterize guys like Furtick. He was theologically informed and showed a high view of Scripture and the need to be clear in our presentation of the gospel without qualifying it to death.
Graham was helpful in his interaction with Jakes on racial diversity in the church. He did a decent job of defending (against Drsicoll) the need for denominations. He somewhat successfully showed how the SBC is more theologically open than Driscoll's Acts29 network, because they are not so dialed in on hiring Reformed guys.
Furtick was the youngest participant. What struck me the most about him was his awareness that he was in a room with men older and wiser than he, and he made no attempt to act as if he was at the same level as the others. He showed great humility as the younger pastor. He wisely opted out of commenting on several remarks because he felt unqualified and he continually expressed that he felt he was learning more than he was offering in advice and opinion.
Jakes articulated himself perhaps better than the rest (aside from the Trinity issue). He is a student of the culture and history. He offered great one-liners, time and time again. He is compassionate and presented a shepherd's heart.
Driscoll was his quick-witted self, delivering many great one-liners as well. He seemed to be much tamer than last year (more on that). His favoritism towards networking (though not a fault) was clear, as well as his disfavor for denominations. He likes to sum things up in neat categories of two or three.
MacDonald was perhaps the most perplexing. You could sense that he was under pressure and stressed about the heat this event has brought him. No doubt, he is upset over his "separating" from his position at TGC. (He did refer indirectly to that.) He discussed how this event, and the invitation of Jakes, has lost him some friends—and, no doubt, it has. On two occasions he discussed his fundamentalist background in mostly negative ways. I understand his frustrations and agree with some of his critiques, but he did not come off as charitable, especially for as public a figure as he is. In the final conversation dealing with how to handle people you disagree with, MacDonald sort of let loose his feelings about who he is going to associate with. He stated he would invite any Christian he wanted to the event. If he was willing to invite Jakes (which he didn't have to do) at the expense of other good friendships, then one wonders where MacDonald will go next.
The future of the Elephant Room
I want to comment as well on the nature of the Elephant Room. I am sure that most readers have seen at least one or more of the clips of last year's event. There is no doubt that the conversations were centered on pitting two guys against each other on a hot topic to see where they disagree or agree. Watching those clips shows that there were some intense moments. Creating and showing controversy was the point. The idea behind the "elephant in the room" phrase was evident last year.
This year was much different (as the others at my table agreed). The most controversy occurred during the Jakes discussion over the Trinity and some of MacDonald's pushback towards Cordeiro on how he handles pastors with moral failures. This time around, the conversations were centered on sharing wisdom from the different yet complementary approaches of the participants towards certain topics. There was virtually no disagreement within the room. Most of the disagreement was aimed at people or groups outside the room (this took place in general terms—no names or groups were mentioned, with the exception of fundamentalists).
The Elephant Room 2 was more about what can we learn from others through conversation to unite us and less about the elephant in the room that divides us. There is a place for this, but I'm not sure it is best to do it under the name The Elephant Room. The participants were diverse and it showed. The point of the ER is to have the conversations in public that go on in private. But I fear the elephant in the room was left to be just that, and the Elephant Room event became a means to bring us together.
[node:bio/cphurst body]
5620 reads