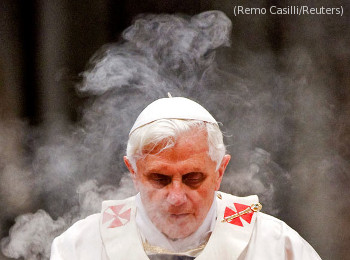 Shortly after he ascended the papal chair, Pope Benedict XVI declared that one of his goals was to re-Christianize a secular Europe. If anyone has had the know-how for the project, it is surely he. But it looks like it's going to be a long haul. After chastising the American bishops for their irresponsible handling of sexual abuse cases among the clergy in 2008, he has to tackle the scandal here. First in Ireland, then Holland, then Austria, and now in the pope's homeland of Germany, the storm has broken out anew. It is only a question of time when charges against clergy will be brought forward in another country. Benedict responded firmly in Ireland, and has begun to do so in Germany. The church has enacted a thorough investigation. Sexual abuse of young people is most reprehensible, as is its cover-up, the pope has declared. He is "thoroughly ashamed" of what has happened in both countries.
From the outset Benedict XVI has been a tough cop on dealing with sex offenders in the priestly office. The case against Archbishop Sean Brady of Ireland—not for sex offense, but for cover up—is particularly damning. Do not expect Benedict to encourage his tenure in office. Though some want to pin blame on the pope himself for knowingly keeping sinning priests in office, finding hard evidence for that charge is unlikely.
Still, satisfying those who have been offended will become more difficult because of the Epistula de delicitis gravioribus. This document, which was signed by Dr. Ratzinger (now Benedict XVI) in 2001, directs sexual abuse cases to be handed by the church internally. The document may well have been in harmony with Catholic doctrine at the time, but western societies have changed their views significantly in the last three decades about reporting and punishing sexual abuse (namely, they demand that it be handled by legal authorities). The newest Emnid poll reports that 86 per cent of the people of Germany believe the Catholic Church is not doing enough to deal openly with the problem.
No religious group is free of the plague of sexual abuse. Writers that detest Christianity are quick to use the abuse scandals to allege hypocrisy in the Christian faith. Christians may fairly counter that this charge itself borders on hypocrisy. Sexual abuse is more prominent among the non-clergy than among the clergy, whether Christian or not: from Carl Jung (one of the founders of modern psychology), to public school teachers, to athletes, to parents in dysfunctional families. And, let's face it, none of the European film people who turned out in numbers to protest the extradition of Roman Polanski to face charges in the US has said, "Come on guys: give the pedophilic priests a break!" In fact, no one at all has said that. But on the other hand, any organization which claims to have Christ as its head—and this the Catholic Church does—will be judged by that righteous standard. The clean-up will have to happen before European secularists will want to Christianize.
Added to this mix is the criticism both within and without the Church of Rome that the celibacy of the clergy seriously contributes to sexual abuse. Fr. Robert Zollitsch, head of the German bishops' conference, has stated that clerical celibacy has nothing to do with the recent clergy abuse scandals. Catholic theologian Hans Küng counters that it most certainly does. The curious fact that will be missed in the ongoing debate is that both Zollitsch and Küng are on the same side of the argument about ending clerical celibacy. In mid-February Zollitsch sent shock waves through the German press when he declared that there is no theological basis for the requirement of celibate priests. The main opponent of these two men is now their German former colleague, who is pope. To quote Benedict XVI, "Holy celibacy is a sign of complete dedication." The church must maintain it, rather than submit to the mores of modern secular society.
Hans Küng is the gadfly of European Catholicism. His statements, including the denial of papal infallibility, earned him a ban on teaching theology in Catholic institutions. He has never had the ear of the European press like he does now. Though his voice has been drowned in all the news of the scandal during the past two weeks, expect him to be heard again. Küng says, rightly, that celibacy of the clergy was never enforced until the eleventh century (1074, to be exact), under Pope Gregory VII. During the first 1000 years of the Christian faith, there had been various attempts by regional councils and papal edicts to prohibit the marriage of priests and higher clergy.
None were very successful until 1074. Gregory did not use the Bible for his position against priestly marriage, but he did use force. Gregory VII's ban became fixed at the first Lateran Council (1123). Canon 21 of the council states: "We absolutely forbid priests, deacons, subdeacons, and monks to have concubines or to contract marriage. We decree in accordance with the definitions of the sacred canons, that marriages already contracted by such persons must be dissolved, and that the persons be condemned to do penance." This canon was reaffirmed at the Council of Trent (1563) and again by the Second Vatican Council (1965). It was made a part of the Code of Canon Law in 1983.
There have been voices for the celibacy of the clergy for centuries, stretching all the way back to Tertullian (ca. AD 200). But married Catholic priests have also always been a part of the church. At the time that Gregory VII enforced celibacy, thousands of married priests protested. To their dismay, they had neither the support of the nobility nor that of the populous of Europe. They had long been in the practice of doling out church property to their children as inheritance. The church became impoverished, which in turn, angered the laity (as well as Gregory). Thus, the married clergy were required to divorce their wives. What happened to those women during and after the forced dissolution of their families is one of the very sad chapters of church history. Philip Schaff tells us, "The Gregorian enforcement of sacerdotal celibacy triumphed in the whole Roman church, but at the fearful sacrifice of sacerdotal chastity."
Now there is a new groundswell among Catholics to restore marriage to priestly life. Last month 450 Brazilian priests petitioned the pope to end celibacy for the priesthood. 87% of the German public, according to a recent ARD poll, say it is time to end compulsory priestly celibacy. The head of the German Catholic laity, Alois Glück, has called for its end, as has Archbiship Keith O'Brien of Scotland, as have all the Catholic bishops of Switzerland. Celibacy, in fact, is one of the chief reasons that the Church of Rome has found it difficult to gain new recruits for the priesthood. "After all," say many Catholics, "Peter was married!" "1 Timothy," argues Hans Küng, "teaches that a bishop is to be the husband of 'one wife,' not 'no wife'!" (The German he uses is a delightful play on words.)
Many of the faithful, the priests, and some of the bishops have ceased to understand why clergy should be forced to forego marriage. And as for sexual abuse, if words mean anything, then the apostle Paul recommended marriage and its conjugal aspect to avoid sexual immorality (1 Cor. 7:2-5). New recruits for the Catholic priesthood just aren't coming in great numbers on this continent. If Benedict XVI calls a council that eventually rescinds the celibacy requirement for the priesthood, it will be a far-reaching event. One would have to wonder which other dogmas would follow. But if he remains firm on celibacy—well, he will have to leave re-Christianizing Europe for another day.


References
"Catholic Church Chief Stirs Controversy with Celibacy Comments" (http://www.dw-world.de/dw/article/0"3135174,00.html) Feb. 19,2010
"Celibacy, clerical." (http://www.econlib.org/library/YPDBooks/Lalor/llCy193.html) Gregory and the institution of Celibacy. Fordham U. Library of Economics and Liberty. Mar. 10, 2010.
"End Celibacy of Catholic Priests, Says Catholic Archbishop," (http://www.telegraph.co.uk/news/uknews/1391749/End-celibacy-of-Catholic-…) Mar. 20,2010
"Father Hans Küng blames Catholic views on sex for clerical child abuse," (http://www.timesonline.co.uk/tol/comment/faith/article7054181.ece) Mar. 11, 2010
Hans Küng, "Zölibat und Misbrauch, (http://www.sueddeutsche.de/politik/309/504521/text/) Feb. 27, 2010
"Noch ein Lehrer unter Verdacht." (http://www.focus.de/panorama/welt/missbrauchsskandal/neue-missbrauchsfae…) Mar. 3, 2010
"Oberster Bischof will Zölibat abschaffen" (http://bazonline.ch/schweiz/standard/Oberster-Bischof-will-Zoelibat-absc…) Nov. 29, 2009
"Umfrage: Deutsche verlieren Vertrauen in Kirche." (http://www.focus.de/panorama/welt/kriminalitaet-umfrage-deutsche-verlier…) Mar. 12,2010.
Jason Walsh, "Pope's Letter on Sex Abuse Scandal Meets with Scepticism," (http://www.csmonitor.com/World/Europe/2010/0319/Pope-letter-on-Catholic-…) Mar. 19, 2010
"Celibacy of the Clergy," Oxford Dictionary of the Christian Church, 2nd ed. F.L. Cross, ed. (Oxford: Oxford University Press, 1990), 259.
H.E.J. Cowdrey, "Pope Gregory VII and the Chastity of the Clergy," Michael Frassetto, ed. Medieval Purity and Piety (New York: Garland Publishing, 1998), 269-304.
Philip Schaff, History of the Christian Church, Vol. V (Grand Rapids: Eerdmans, 1974), 39-44.
---
Jeff Brown
was born in 1951 and received Christ as a child during an evening service in the First Baptist Church of Elkhart, IN. During his senior year in college, while studying Biology, God led him to change course and enter the ministry. He later attended seminary, completed his ThM and married. He and his wife, Linda, have four grown children. Jeff and his wife have been church planting in Germany for over 20 years. He has published three books and recently completed his PhD in Systematic Theology at Central Baptist Theological Seminary.
2262 reads